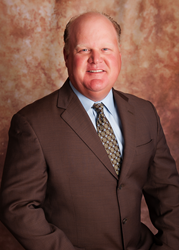 "Mike's contributions will be vital as we work together to explore strategic issues that ultimately benefit all our agency partners." said John Benson, Chairman of the Board and Chief Executive Officer for FI
Frankenmuth, MI (PRWEB) November 25, 2016
Frankenmuth Insurance, the regional insurance carrier based in Frankenmuth, Mich., is pleased to announce the addition of Mike Kuhl of Kuhl Insurance Agency Inc.
to its Agency Council. Frankenmuth Insurance (FI) formed its Agency Council six years ago and appoints agents from each region where FI does business to ensure the needs and concerns of all its agency partners are represented.
Kuhl is president of Kuhl Insurance Agency, which is in its second generation of family ownership. Located in Morton, Ill., Kuhl Insurance Agency has 28 employees, is licensed in 35 states, and provides commercial, employee benefits and personal insurance to a large clientele. Within his community, Kuhl is very involved in the Boy Scouts and Junior Achievement, as well as serves on a community advisory board for the OSF Saint Francis Medical Center.
"Mike brings 23 years of insurance experience and is a great addition to the Agency Council," said John Benson, Chairman of the Board and Chief Executive Officer for FI. "His contributions will be vital as we work together to explore strategic issues that ultimately benefit all our agency partners."
Members of the Frankenmuth Insurance Agency Council meet twice annually to discuss issues of mutual interest, providing valuable insight that helps strengthen the company's partnerships with all agencies. Other members of Frankenmuth Insurance's Agency Council include:

Brian Bartosh, Top O' Michigan Insurance Agency (MI)
Gary Burton, Robertson Ryan & Associates Inc. (WI)
Gretchen Hopp Doyle, Baker-Hopp & Associates (MI)
Victor Jowers, Upchurch & Jowers Agency (SC)
Brent Neal, Frank E. Neal & Co. (TN)
Rich Smith, Hickok & Boardman (VT)
Bill St. Charles, Michigan Community Insurance Agency (MI)
Sam Tuten, Marsh & McLennan Agency LLC (OH)
Todd VanDyk, Olivier - VanDyk Agency (MI)
Vickie Wolcott, M.J. Schuetz Insurance Services (IN)
Benson said, "We are grateful to all our council members for their time and efforts and look forward to working with Mike in the years to come."