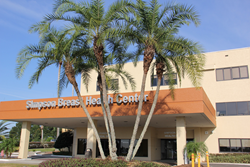 Improved resolution with state of the art 3D ultrasound now provides an additional screening tool for women with dense breasts allowing us to detect small cancers before they are visible by mammography
Zephyrhills, FL (PRWEB) November 22, 2016
Florida Hospital Zephyrhills Simpson Breast Health Center is adding new 3D ultrasound technology to patients. Any woman who's had a mammogram and received a call back for an ultrasound knows how stressful that can be. Now, doctors are able to detect the cancer earlier in patients with this new technology being offered.
The Simpson Breast Health Center recently added Aixplorer®, a state-of-the-art 3D ultrasound system that allows doctors to immediately identify cancer or diseases through a non-invasive approach. Aixplorer's® 3D breast ultrasound, offers Shearwave elastography technology, which provides doctors the ability to better diagnose the difficult category 3 and 4 lesions, that are hard to detect with traditional mammography.
"Improved resolution with state of the art 3D ultrasound now provides an additional screening tool for women with dense breasts allowing us to detect small cancers before they are visible by mammography," said Ronald C. Prati, M.D., a Board Certified Radiologist with Sunshine Radiology. All breast tissue is different and Aixplorer® recognizes this with five settings that adjust to accurately match the speed of sound in tissue. This results in sharper and better identification of normal and abnormal structures in the breast.
"Having the newest technology in The Simpson Breast Health Center is critical to accurately determine which masses are truly suspicious needing biopsy, which masses are probably benign needing short term follow up, and which are benign needing no further evaluation," said Dr. Prati.
For more information or to schedule an appointment with The Simpson Breast Health Center, call (813) 779-6278.
About Florida Hospital Zephyrhills
Florida Hospital Zephyrhills is a 139-bed regional medical center located in East Pasco County. It is a member of the Florida Hospital network of Adventist Health System, one of the largest health care providers in the state of Florida. Florida Hospital Zephyrhills has been nationally recognized by the American Heart Association, the American Stroke Association, The Joint Commission, and HealthGrades for excellence in providing top quality patient care with special emphasis on safety and patient outcomes. The award-winning Heart Program has received recognition in the treatment of coronary intervention, heart failure, chest pain, open heart surgery, and electrophysiology procedures. The hospital offers a full range of inpatient and outpatient surgical offerings, including orthopedic services such as hip and knee replacement and advanced MAKOplasty® robotic partial knee replacement. The Women's Health Center offers comprehensive services for women including gynecology, urology and pelvic floor health, labor and delivery through The Baby Place®, and breast care through the Simpson Breast Health Center. The hospital also offers 24/7 emergency services including a "fast track" option, imaging services, and the Center for Wound Healing. Visit FHZeph.org for more information.
About The Simpson Breast Health Center
The Simpson Breast Health Center is the only dedicated breast health center in East Pasco County. The center provides a broad variety of services, including diagnosis, treatment, surgery, rehabilitation and ongoing patient education and recovery, in a comfortable, spa-like environment. The center offers each patient a nurse navigator who helps make the treatment process as streamlined and simple as possible.