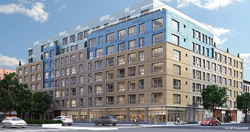 New York, NY (PRWEB) December 05, 2016
December 5, 2016 – FirstService Residential, New York's leading property management company, announced that the company was recently selected to serve as property manager for The Aurum Condominium, a brand new115-unit building located at 171 West 131st Street in New York City's Harlem neighborhood.
Designed with environmental sensitivity and sophisticated amenities, the condominium exudes the energy of a modern lifestyle. Amenities include 24-hour doorman, bicycle storage, a state-of-the-art fitness center on the penthouse level, residents' lounge, media room, landscaped courtyard, outdoor space with grilling stations and a parking garage for residents. To support its focus on sustainability, The Aurum also features a co-generation plant, green roof, high efficiency windows and an interior live green wall.
About FirstService Residential
FirstService Residential is North America's largest manager of residential communities and the preferred partner of HOAs, community associations and strata corporations in the U.S. and Canada. FirstService Residential's managed communities include low-, mid- and high-rise condominiums and cooperatives, single-family homes, master-planned, lifestyle and active adult communities, and rental and commercial properties.
With an unmatched combination of deep industry experience, local market expertise and personalized attention, FirstService Residential delivers proven solutions and exceptional service that add value, enhance lifestyles and make a difference, every day, for every resident and community it manages. FirstService Residential is a subsidiary of FirstService Corporation, a North American leader in the property services sector. For more information, visit http://www.fsresidential.com.