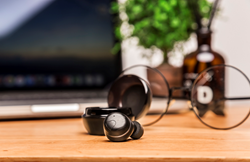 IRVINE, CA (PRWEB) November 23, 2016
ORFEO SoundWorks, CES Innovation Award Winner at the headphone part plans to launch Orfeo Voice, unique mono headset that seems to be a perfect fit for the headphone industry. The wireless Bluetooth headphones are becoming more popular because of its convenience, portability and stylish designs. With Apple getting rid of the earphone jack on the new iPhone 7, all eyes are shifting to what's new in the mobile accessories industry. All audio companies are now developing their models based on Bluetooth technology. However, these wireless earbuds are normally priced high, are running low in battery and most importantly, are terrible at phone calls with just a bit of background noise.
Absolute no-noise, clear communication
While the average Bluetooth headphones or even headsets designated for communication are ineffective in noisy environments because the microphone is located outside, picking up almost every background noise, ORFEO SoundWorks has put the microphone inside the earphone to catch the voice travelling through the Eustachian tube and to block out ambient noise. The earphones then employ patented technology to ensure the voice has a natural sound.
No-worries for the battery
Orfeo Voice also provides portable charging cradle. The charging cradle itself is not a charger. However, the charging cradle can be left inside a car or home to charge Orfeo Voice that is not being used.
The less expensive option
Many true wireless stereo earbuds are priced around $200. However, ORFEO Voice, though it is a mono headset that specializes in phone calls, is planning to aim for affordable price at $79.
About ORFEO SoundWorks
ORFEO SoundWorks is the pioneer of noise-blocking Bluetooth headsets. An engineering-driven research and development company, ORFEO SoundWorks was founded in 2015 with the goal of enhancing the listening experience of people everywhere. Products include specific B2B audio solutions and sound-blocking Bluetooth earphones, which were selected as a CES 2016 Innovation Awards honoree.
To learn more about ORFEO SoundWorks, visit http://www.ORFEOsound.com.
Media Contact:
Steven Kim
steven(at)ORFEOsound(dot)com
714-770-8090