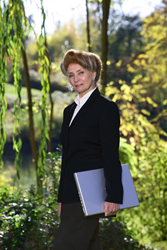 Grants Pass, OR (PRWEB) November 23, 2016
Date aired: November 21st, 2016
Guest: Dr. Gregory H. Tefft, Chief Science Officer for Arbor Vitae Nutrition http://arborvitaenutrition.com/
"It's all in the water," said Sharon Kleyne. "And it is also all in balancing the minerals in the body," said Dr. Gregory H. Tefft. Kleyne, America's leading water advocate and host of The Sharon Kleyne Hour Power of Water, Global Climate Change and Your Health radio program syndicated on Voice of America, welcomed Dr. Tefft to discuss the power of water and his groundbreaking work in nutrition.
"Too many people continue to be confused about the danger of dehydration due to excess evaporation of the body's water vapor. They're equally ignorant about the growing global water crisis. Well, I'm not going to put up with it anymore," Kleyne insisted. "Together, we're going to learn what we need to know and create a new Water Life Science® lifestyle."
Dr. Tefft, the world's leading expert in personalized nutrition, the triple-crown Natural Mr. America bodybuilding title holder, clinical bio-nutritionist, wellness practitioner, author and inspirational speaker, agreed with Sharon Kleyne that water is fundamental to good health and productive living. He also described his complementary program in which the goal is to balance the minerals that are necessary for each individual's body. This leads to Personalized Diet Plans that are created by experts at the company where he serves as Chief Science Officer, Arbor Vitae Nutrition.
Sharon Kleyne and Dr. Tefft agreed that learning to breathe and drinking enough water each day are essential companions to Dr. Tefft's nutrition program. Yet, education is a must. Seventy-to-eighty-percent of Americans are taking so many vitamins that are wrong for them," Dr. Tefft said, "that they're actually doing more harm to themselves than good! The point is to discover what's already in your body," Dr. Tefft continued, "then balance it by putting in what you need."
"Let's commit to studying ourselves," Sharon Kleyne said. The founder of Bio-Logic Aqua® Research Water Life Science®, Sharon Kleyne also lamented the overuse of vitamins and other supplements to compensate for supposed deficiencies that may or may not exist. "We need to take responsibility for our health. We must understand the way that water, breath and nutrition fuel us and keep us alive." Kleyne said.
Dr. Tefft, author of Your Personal Life: Measuring What Your Specific Body Needs To Live Lean, Long, Strong & Better, has worked with over 300,000 patients including sports stars, global leaders and celebrities from film and television, says that we now possess the technology to live to 155 years of age. "You have to want to control your own health," he said. "And the good news," he continued, "is that it is affordable through Arbor Vitae Nutrition.
Dr. Tefft and Sharon Kleyne encouraged listeners to visit the company's website and take a first test to receive a preliminary report on your body's mineral make-up and its personal needs. Radio listeners and readers of this press release were also urged by Dr. Tefft and Kleyne to use this special code: C203A1006 for additional on line and real life benefits.
"If we learn what we need to know," Sharon Kleyne concluded, "we can get on top of this health crisis and find cures for most of the diseases that plague is within the next thirty years. Understanding water, breathing and nutrition are essential that progress.