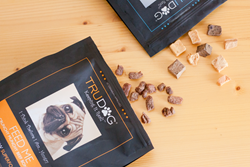 Be sure to keep Thanksgiving foods away from dogs and advise guests not to feed dogs any table scraps.
Cincinnati, OH (PRWEB) November 23, 2016
Thanksgiving is a celebration with food and family, and with all the delicious smells coming from the kitchen, pets will naturally want to join in the festivities. While their cute faces are hard to resist, it's best to avoid feeding dogs many traditional Thanksgiving foods because they can be hazardous to their health.
While turkey meat is safe for dogs to eat, turkey and other bird bones are especially dangerous for dogs to ingest, and can cause indigestion, vomiting and obstruction of the bowel. They are also a huge choking hazard since they can splinter.
Stuffing and mashed potatoes are also unhealthy for dogs because they may contain dairy products which can upset a dog's stomach and intestines, and anything that contains onions can be potentially fatal to dogs. Beware of feeding dogs gravy since most commercial gravy mixes contain onion powder.
"Dishes made with grapes or raisins and chocolate desserts are also highly toxic to dogs and potentially life threatening. Be sure to keep these foods away from dogs and advise guests not to feed dogs any table scraps," advises Lori Taylor, Founder and CEO of TruDog.
Dogs can still enjoy Thanksgiving with these safe and healthy treats from TruDog - Feed Me Turkey, Chew Me Turkey Neck Super Chews and the Boost Me Mighty Meaty Beef Topper/Meal Enhancer are all made from 100% real meat that dogs naturally love.
When dogs beg for turkey, give him or her TruDog Feed Me Turkey treats made in the USA from cage-free, quality turkey meat and whole organ meats including liver, heart and kidney. Fortified with amino and omega-rich turkey blood and fat, these treats are a complete nutritional powerhouse that will satisfy a dog's craving for meat.
In addition, TruDog Turkey Necks give dogs a healthy, all natural chew to enjoy. Since they are 100% digestible, it's a great alternative to a rawhide bone, and it helps promote healthy teeth and gums. They are made from raw, freeze-dried 100% turkey meat, which helps retain all of the natural vitamins and minerals.
Boost Me can be added to a dog's regular meals or served by itself as a treat. It improves the nutritional value of a dog's current diet by supplementing it with an all-natural booster providing additional protein dogs need, as well as a great raw meat aroma that dogs cannot resist.
With all of these safe and healthy Thanksgiving treat options to choose from, TruDog helps families enjoy the holiday and include dogs in the celebration, without the risk of an emergency trip to the veterinarian.
TruDog is an all-natural pet food and nutrition company based in Cincinnati. This family-owned company is passionate about pet health and wellness. With all of its products being natural and holistic, TruPet is changing the way people view their pet health. TruPet is the parent company to TruDog, which focuses on dog food and health. Visit https://trudog.com/ for more information.