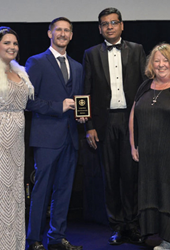 At QA Mentor we are very happy and proud with the results and our special Commendation Award for Leading Testing Vendor in Europe which makes our 8th award in 2016.
New York, NY (PRWEB) November 23, 2016
The European Testing Awards and award ceremony for 2016 are complete and QA Mentor is so pleased to announce that they brought home a Special Commendation Award in the Leading Vendor Category. QA Mentor's Director of Sales, David Cox, represented QA Mentor at the event.
"Getting to walk up to the podium to receive an award was very humbling and the credit goes to everyone at QA Mentor. Knowing that a highly respected group of judges decided that the services we offer and the work we have delivered is worthy of being classed in the best of the world is something everyone should be immensely proud of." said David Cox of receiving the award on behalf of QA Mentor.
"At QA Mentor we are very happy and proud with the results and our special commendation award for leading vendor in Europe. Competing with top companies in the world in testing space is the same as playing at the Soccer World Cup. We lost in the final, taking 2nd place in most critical nomination "Leading Vendor" but we will back next year even stronger and ready to win. We came in second place among 13 tough competitors who made it to the finals. The fact that we left behind multi-billion companies such as Tata Consultancy Services Ltd. (TCS), Tech Mahindra, Cognizant, Infosys and few others makes this award very special for us and I am very proud of my entire team who worked very hard to earn this respect" said Ruslan Desyatnikov Founder and CEO of QA Mentor.
For the second year in a row, QA Mentor was a finalist and this year in four categories: Leading Vendor, Most Innovative Project, Testing Management Team of the Year and Testing Manager of the Year. Each of these categories highlighted some of QA Mentor's best qualities.
The Testing Manager and Testing Management Team of the Year is expected to show outstanding testing manager qualities such as consistent leadership, people management and communication skills, and high quality standards. QA Mentor being a finalist for those awards recognizes the company and their managers for exemplifying those qualities above most other companies.
Being a finalist for the Most Innovative Project award was the one category QA Mentor was most proud of since it enabled them to showcase their ability to quickly identify inefficiencies and recommend and facilitate improvements for their clients.
The winners were announced at the Gala dinner at Old Billingsgate, London on November 16th. The Awards were hosted by TEST Magazine's Editor Cecilia Rehn.
About QA Mentor
QA Mentor is an award winning leading global QA services provider headquartered in New York and with eight different offices around the world. Established in 2010 with an aim to help organizations from various sectors improve their QA functions, QA Mentor proudly boasts of having a unique combination of 150+ offshore and onshore resources who work around the clock supporting all time zones. The company supports 250+ clients from startups to Fortune 500 organizations within nine different industries. For more info, visit: http://www.qamentor.com/
About The European Software Testing Awards
The European Software Testing Awards is an annual event held in Central London celebrating the very best in the software testing and QA industry. 31 Media are the organizers of The European Software Testing Awards, The National Software Testing Conference, and publishers of TEST Magazine.
http://www.softwaretestingawards.com/