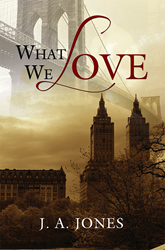 Kate took him in her arms and held him as tightly as she could, for what seemed like hours, even though it was only about fifteen minutes.
(PRWEB) November 23, 2016
Kate and Jacob have been together for over a year. Jacob is a painter, while Kate jokingly calls herself a 'writer'. That is actually how she met polio-stricken Jacob. She had fallen in love with him in that one hour she interviewed him for a local SoHo rag. It was meant to be a piece illustrating the chic and otherwise special SoHo neighborhoods, but it turned into a personal portrait of a young artist. This was the public exposure Jacob badly needed. He tracked her down relentlessly. After scores of dinners and other outings, she eventually moved in with him and his canvasses.
Then there's Connie, the art critic who looks tough and conceited on the outside, in order to hide the pain and turmoil brewing inside. She lives with her manic depressive boyfriend Alan who beats her constantly and sends her to a hospital twice in a year. She knows he is sick and desperately needs to get psychological help. She finds herself trapped, in a rut so deep she does not know how to get out of it. Her friendship with Kate and Jacob grows deeper and she finds solace in them in the toughest of times.
Among the highlights of the book:

What We Love is a multi-part love story that traces eight years in the lives of Jacob and Kate. Jacob is confined to a wheelchair from a crippling bout with childhood polio. We learn about his childhood and illness through an interview with art critic Connie. A parallel story traces Connie's growth away from a criminally insane boyfriend through therapy to where she can have a normal relationship.
Jacob's growth involves periodic setbacks. In the first one he gets badly mugged. Later in the story he has to work through a painter's block. His worst crisis finds him repenting a one-night stand he had with his apprentice painter during a bout of depression. As Jacob's love for Kate grows, they have two children after a miscarriage.
Jacob's career takes off and he becomes an international star. His friend Sam Dunnard isn't so lucky, showing another side of the artist's life. After a series of strokes, Sam finds himself lying helpless in a hospital bed, unable to move or breathe without a machine.
The crux of the story comes during Jacob's trial on murder charges, stemming from accusations he unplugged Sam's breathing machine in the hospital
During the trial, Kate gently "confesses" to Jacob that she understands why he unplugged the machine. The story takes on a note of uncertainty as Jacob's success is ascendant, but Kate is diagnosed with ovarian cancer. She is treated and the doctors are optimistic.
Kate doesn't understand what makes one person love another to the exclusion of all others. Why people pick the one they do and stick with them even when doing so causes unending aggravation. She has often asked herself this questions during the roughly year and a half since she first met Jacob Miller and moved into his studio. And yet, with no answers to be found, her feelings for him remain the same. She has been in love with a complicated man almost since she first laid eyes on him, and will doubtless remain so for the rest of her life. She doesn't know what it is in him or her that makes this so. She keeps thinking about the problems that can arise in a relationship like theirs-faithfulness vs. straying from being true, getting "tired" of one another and, ultimately, becoming old and sick. She imagined what tests lay ahead and what they would mean when they encountered them. Their getting married was may be the first test-something they have discussed more than once but not firmed anything up..
And yet she couldn't leave him. Somehow she's gotten used to do the way they live. Every time she came home from being out somewhere, the inviting smells of linseed oil and turpentine stood out unmistakably as she takes in the total effect of the room that her love had converted to his studio. Even in January, Jacob seldom would turn on the steam pipes to heat the room. He hated feeling hot. If paintings dried in the dank parlors of nineteenth century Paris, he would say, they would "bloody well" do the same in a cool, dry loft in twentieth century Manhattan.
Unfortunately, the infrequent use of heat in the great room meant they would sit around in their winter coats in their own place, since the only other heat pipes were in the corner of their kitchen nook and the bathroom. In extremely cold weather, she would insist on some heat and Jacob turn the valves slightly-just enough to keep her from complaining.
About the author:
J. A. Jones grew up in Southern California and attended the University of California (Los Angeles and Santa Cruz), where he concentrated on literary studies and wrote both poetry and short stories. After a 30 year government career Jones completed his first novel, Heat, which was published in November, 2011. The novel What We Love followed shortly after that. He is married and lives in Sarasota, Florida. He has one daughter, a physician in Atlanta."
Title: What We Love Author: J. A. Jones
Genre: Literature and Fiction
ISBN: 978-1-304-54503-9
eISBN: 978-1-625-17423-9
Pages: 448
Publisher: Jeffrey Jones