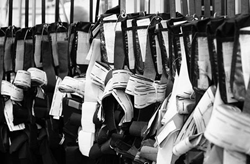 "The new Zanella collection brings to life the mid-century architecture of Milan and reimagines classics that I found in our own archives. remarked Jay Vosoghi, Creative Consult
New York, NY (PRWEB) November 23, 2016
International men's luxury clothing label Zanella today launched its first e-commerce website, in collaboration with creative agency King & Partners of New York City. Zanella has also selected Hearst digital marketing agency Tower to drive qualified consumers to Zanella.com.
100% Italian and made in Vicenza, Zanella has produced preeminent trouser collections since 1954. A customer-centric brand, Zanella's essential trousers are for men of all ages and lifestyles. Design, tailoring, and execution rely on an understanding of the contemporary man, concentrating on who he is and how he lives. The "industrial sartorial" theme at the core of Zanella embodies the convergence of old-world technique with new-world innovation. Combining classic Italian craftsmanship with fresh fabrics, fits, and thinking, Zanella vigorously embraces the future.
The new site immerses visitors in the Zanella experience. Designed and developed by King & Partners, Zanella.com delivers a view of the product, history, craftsmanship, and inspiration of Zanella across multiple devices, powered by the Sellect eCommerce platform. The launch collection is an impressive offering of newness that is fresh and on-brand. Ranging from classic dress trousers to relaxed models, impeccably tailored chinos and handsome denim, every style is a focused essential. Fresh models will continually be added to the site, and a broad basics program is coming in the New Year.
Hearst's Tony Fasanella added, "Zanella is a great fit with our current clientele, made up of various luxury and apparel brands. In concert with King & Partners, we'll leverage our combined experience engaging affluent audiences on behalf of Zanella."
About Zanella
Born in 1954, Zanella merges technical expertise with an artisan mindset to create the finest sartorial trousers. With progress at every step and passion at every turn, Zanella can be found at major department stores and specialty shops across the United States. Based in New York City, NY and Vicenza, Italy, Zanella is owned by Tengram Capital Partners. Visit Zanella.com to learn more.
About King & Partners
King & Partners is an internationally renowned digital agency that is responsible for design, technology, content, digital marketing and eCommerce flagships for a selected group of exceptional global brands. Visit KingAndPartners.com to learn more.
About Sellect
Sellect is an eCommerce platform designed and built from the ground up to meet the precise standards of cutting-edge technology and the online fashion and lifestyle experience. Learn more at Sellect.com, or email info(at)sellect(dot)com.
About Tower Digital, A Hearst Agency
The Tower Digital Agency, a division of Hearst, helps businesses harness the innovative and expansive assets of Hearst's partners, resources, technology and multichannel titles to identify, engage, grow and influence target audiences. The agency brings together the company's strategic experts, enormous reach and scale, award-winning content and breakthrough creative thinking to craft customized, applicable marketing solutions, producing communication strategies that deliver measurable performance against campaign objectives. Learn more at TowerDigitalAgency.com.