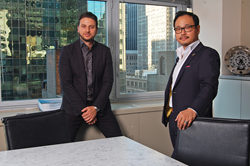 It's a very big day for all of us.
New York, New York (PRWEB) November 29, 2016
Nest Seekers International has acquired a significant portion of the business of Blu Realty Group. Veteran brokers Andy Kim and Moshe Balalo started their real estate careers at Nest Seekers well over a decade ago, and were instrumental in the sellout of the massive redevelopment of Riverside Boulevard. So far over 30 agents have transferred.
"Andy Kim and his team were valued members of our team when the firm first emerged. Andy is arguably the number one broker on Riverside Boulevard. He is also a warm and caring individual beyond his professional superiority. Everyone here at Nest Seekers International is thrilled to have him and his entire team back to the Nest Seekers family. Moshe is an extremely talented and effective professional and leads a wonderful team. It's a very big day for all of us." - stated by Eddie Shapiro, President, CEO of Nest Seekers International
The group has an incredible track record coupled with an exclusive portfolio around the city. In recent years the team has also emerged as a very effective competitor in commercial leasing and investments sales.
"The journey with Blu Realty was something I needed to try both on a professional and personal level. I will always appreciate the experience in creating my own firm. However at this time, it makes absolute perfect sense to rejoin an organization with such an enormous platform to further grow my business and aspirations. Along with partner Moshe, we have plans globally that tailored fit for this reunion." - Andy Kim
The team will be based out of the Nest Seekers International 415 Madison Avenue corporate office as well as the 100 Riverside Boulevard storefront which Kim will co-manage.
"This is another testament to the unique culture and quality of our organization. This is a story that I have experienced too often of professionals that were inspired to experience other avenues and inevitably come back to the Nest." – Ravi Gulivindala, SVP, Managing Director and Talent Acquisition
About Nest Seekers International: Nest Seekers International has 18 offices and nearly 800 agents and staff, servicing New York, The Hamptons, Los Angeles, New Jersey, Miami and London. The firm is ranked as a leader in every market it operates. Nest Seekers International represents billions in exclusive properties and transactions. It is known for its outstanding technology, branding and marketing innovations in the wave of new firms that have dramatically reshaped the real estate industry in the recent decade.