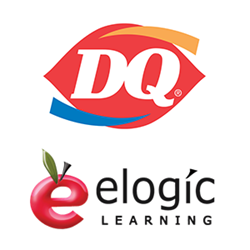 Our criteria for a new LMS vendor boiled down to reliability, configurability, and usability. We were looking for a reliable solution and vendor that could grow with us and adapt to our changing business needs.
Tampa, Fla. (PRWEB) November 29, 2016
American Dairy Queen Corporation (ADQ), which franchises the renowned Dairy Queen® soft-serve treat and restaurant chain, has chosen eLogic Learning as its new learning solutions partner. The company was looking for a fully configurable system that could grow and adapt to its changing business needs while allowing the organization to bring its training curriculum and materials completely online for global users.
Since the first restaurant opened in 1940, the name Dairy Queen has been synonymous with a variety of frozen desserts like their Blizzard®, Dilly Bar® and DQ® soft-serve cakes. What started as a small operation out of Joliet, Illinois has expanded into a global business that serves 28 different countries and over 6,700 franchise locations.
With so many locations around the world, ADQ has faced a number of training and development challenges such as finding a system that could adapt and grow with ADQ's changing business needs while offering easily configurable features to better administer and deliver courses on a global scale.
It is ADQ's continual growth and the company's changing business needs that prompted it to find an LMS that would adapt to these changes. Updates to eLogic's eSSential LMS are created via an agile development process where enhancements are rolled out on a more frequent basis (every 3-4 weeks). It's through a combination of industry trends and technology as well as client feedback that the LMS is able to adapt to the needs of eLogic clients (such as ADQ) and grow alongside their businesses.
"Our criteria for a new LMS vendor boiled down to reliability, configurability, and usability. We were looking for a reliable solution and vendor that could grow with us and adapt to our changing business needs. We particularly desired a user-friendly system that we could fully configure and maintain ourselves," said Kim Brastad, Director of Global Curriculum/Training for ADQ.
With eSSential LMS, ADQ is now able to configure their LMS to meet their training needs rather than reconfigure training to work within the LMS. They can control admin and user access, content managed areas, course details and so much more. As a recognizable brand, the DQ® platform also has fully configurable branding capabilities from colors and banners to branded home pages making the user interface both familiar and intuitive for users.
In the past, ADQ also administered training materials in hard copy format, a combination of physical materials and digital files on CD-ROMs, or by uploading resources to different sites for each region. Now, the company can publish regular updates to curriculum and utilize ad hoc reports to track training activity across all regions from one centralized system, thereby increasing its productivity and saving time on future updates.
In addition to needing one centralized system, ADQ also desired a way to manage registrations of for-purchase instructor-led training courses. With eSSential's ecommerce functionality, they are able to offer online registration for these courses and utilize the coupon code feature in such a way that franchisees can reserve training seats for their managers without having to specify which particular training events they will attend.
Speaking of training, when ADQ finished its system implementation training with the eLogic support team, the company was so excited about all the possibilities eSSential provides and Brastad's team was even heard to exclaim, "I can't believe we ever lived without this!"
However, it's a toss-up as to who is more excited. The entire eLogic team is looking forward to the partnership and even celebrated the announcement with some DQ Blizzard treats!
"As a kid, going out for ice cream could be the highlight of your week, especially when you went to Dairy Queen," said Mark Anderson, CEO of eLogic Learning. "It's now even more exciting to be working with that very same company and helping them achieve their training and learning development goals. It almost feels like we're giving back a little of the happiness they gave us when we were kids and still experience today when we go to Dairy Queen. And, celebrating with a Blizzard party wasn't too bad either."
About American Dairy Queen Corporation
International Dairy Queen Inc., (IDQ), based in Minneapolis, Minnesota, is the parent company of American Dairy Queen Corporation. Throughout its subsidiaries, IDQ develops, licenses and services a system of more than 6,700 locations in the United States, Canada and more than 25 other countries. IDQ is a subsidiary of Berkshire Hathaway Inc. (Berkshire) which is led by Warren Buffet, the legendary investor and CEO of Berkshire. For more information visit DairyQueen.com.
About eLogic Learning
A leader in the eLearning industry, eLogic Learning offers organizations world class, comprehensive LMS technology and content solutions that save costs and increase productivity. The eLogic eSSential LMS supports over five million monthly users and was named a #1 Corporate LMS by Talented Learning, Top 3 LMS by E-Learning 24/7 and Top 20 by Capterra. The eSSential LMS makes it easy to manage eLearning, instructor-led and virtual training events, keep up with regulatory compliance requirements, analyze training usage and results, sell courses online with robust ecommerce features, and much more.
In addition to its Learning Management System, eLogic develops custom eLearning content and provides an extensive third-party courseware library. With a comprehensive turnkey approach to implementing learning strategies, eLogic offers professional services and proven expertise in content strategy, business process change and the development of corporate training programs.