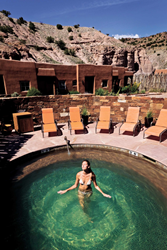 We are honored to have both resorts recognized as some of the best destinations to enhance personal health and wellness in America. -Wendi Gelfound, Marketing Director at Ojo Caliente Mineral Springs Resort & Spa and Sunrise Springs Spa Resort
Santa Fe, New Mexico (PRWEB) November 23, 2016
The winners of the 2016 Wellness Travel Awards were announced last week at World Travel Market London, including destinations on six continents in 40 countries and 20 categories. Ojo was chosen for "Best Hot Springs."
The award was bestowed by a panel of 39 wellness travel editors and experts who nominated and selected finalists, along with tens of thousands of consumers and travel agents around the world who cast over 130,000 votes for their favorite properties. Spafinder Wellness General Manager John Bevan presented WTA Crystal Awards to the top properties on six continents and Country Awards to the top properties in 41 countries and regions. Category Awards were given to the top 10 properties that offer exceptional wellness experiences in each of 20 categories.
Ojo's sister property in Santa Fe, Sunrise Springs Spa Resort, also won accolades for Best Ahead-of-the-Curve Innovation.
"We are honored to have both resorts recognized as some of the best destinations to enhance personal health and wellness in America," said Wendi Gelfound, Marketing Director for both properties. "It is a testament to both our mission to inspire our guests to discover, connect and thrive and the passion of our staff to create rich and memorable guest experiences."
"The growth in wellness travel and the vast range of healthy travel options offered by these exceptional properties is remarkable," said Bevan. "We are honored that the Awards are supported by World Travel Market London and curated by an outstanding panel of travel editors and experts, along with travelers around the globe. Without question, they are the most objective awards in the industry and every nominee, finalist and winner deserves recognition for their accomplishments."
For more information on Ojo, please visit: http://www.ojospa.com.
FOR MEDIA INQUIRIES:
Jennifer Hobson-Hinsley
505 603 8643
Jennifer(at)jlhmedia(dot)com
###
OJO CALIENTE MINERAL SPRINGS RESORT & SPA: Opened in 1868, Ojo Caliente Mineral Springs is one of the oldest natural health resorts in the United States, and the only hot springs in the world with a remarkable combination of four different sulfur-free mineral waters. Deemed sacred by the Native American tribes of Northern New Mexico, Ojo's legendary waters have been soothing mind, body and spirit naturally for thousands of years. The 1,100-acre resort features enchanting suites and charming cottages, a historic hotel and private homes. The full-service spa offers a wide array of restorative therapies including nurturing massage and rejuvenating body treatments. In The Artesian Restaurant and Wine Bar, the culinary team incorporates Ojo's farm-grown herbs, fruits and vegetables into his global cuisine. Ojo Caliente Mineral Springs is located one hour north of Santa Fe and 45 minutes south of Taos, New Mexico. http://ojospa.com
ABOUT SPAFINDER WELLNESS: Spafinder Wellness is the world's largest marketing, gifting, incentives and rewards company for the spa and wellness industry and the leading consumer resource for feeling good and living well all year round. With now over 25,000 wellness partners worldwide, including wellness travel destinations, spas and salons and fitness, yoga and Pilates studios, millions of people find the resources and inspiration to keep well every day via Spafinder's websites and The Wellness App. The company's widely distributed gift/wellness cards are available online and at 40,000-plus retailers worldwide, as well as through corporate incentive/rewards programs. Visit spafinder.com, spafinder.co.uk and spafinder.ca.