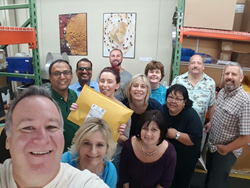 We expect a very realistic ROI in less than 12 months.
Reston, VA (PRWEB) November 23, 2016
Touchstone Crystal by Swarovski combines the fun of a social shopping experience with jewelry of the quality and craftsmanship only Swarovski can provide. Given their aggressive growth in recent years, the need for modernizing their supply chain was of critical importance. Demand was seasonal and volatile, while volume spikes were becoming more difficult to handle in their existing WMS.
Touchstone's business model – bringing unique jewelry collections made with authentic Swarovski crystal directly to consumers through an independent consultant network – is driven by their Order Management and Party Planning software. Choosing a warehouse management system that could integrate and work seamlessly with their Party Planning software was a key criterion, in addition to rapid on-boarding of the system and solution realization. After evaluating major best-in-class vendors, Touchstone set its sights on Softeon. The flexibility of the system, ease of configuration, availability on the cloud and, above all, the highest levels of customer satisfaction, made Softeon the right fit for Touchstone.
In February 2016, Touchstone Crystal chose Softeon to be their WMS partner and software supplier, based on Softeon's proven successes in women's fashions, jewelry, and consumer product goods. Touchstone's existing system included many facets, such as event planning, sales, CRM, and order management all in one. Described as "an OMS system with a twist," it would be a challenging system to integrate for any supplier. However, in less than 5 months, the implementation cycle was completed, the Softeon WMS system launched, and it continues to operate efficiently for Touchstone.
Highlights of Touchstone business benefits include:
1. Efficiency in picking operations across the volatile nature of Touchstone's business came first: high seasonality in orders, peaks in picking volumes in certain times of the month, and historical growth made the WMS software a welcome relief. Inventory accuracy, visibility and operational ease were vital to the continued growth of the business. This was not easily achievable in their legacy paper-based WMS system, which did not integrate real-time with their Party Planning (Order Management) software. Softeon's system provided and continues to provide a seamless process end-to-end, from receiving to pick, pack and ship, and inventory accounting.
2. Consumables inventory, including packing materials, is also managed within the Softeon WMS system. As packing is done, the system will track packing materials inventory. This enables packing "value added services" processes to trigger timely procurement of high-volume consumables.
3. Increase in operational productivity through efficient methods like cluster picking; seamless integration to small parcel carriers; and usage of standard, mobile-enabled devices, facilitated the automation of system-driven processes with a more optimum use of off-the-shelf IOS devices (versus more expensive RF devices).
4. Flawless and high-performance integration of the Party Planning System was critical to the success of the implementation, including enterprise master data management (one-time migration, data cleansing, and integrity checking during the switch to Softeon WMS). The Softeon data migration team executed this with great efficiency.
"The overall close collaboration of the Softeon Project Manager and team members, as a joint team with Touchstone IT, Distribution and Operations Managers, and Executive Management, made the entire process painless. Owing to the highly motivated users in the warehouse, the change management was smooth and the results were quickly realized. We expect a very realistic ROI in less than 12 months."
Raymond V. O'Connor, Jr., Head of Information Technology
TOUCHSTONE CRYSTAL
About Touchstone Crystal by Swarovski
Touchstone Crystal is the new direct-selling jewelry division of the Swarovski brand. Touchstone Crystal has successfully reinvented home-based business opportunities for women everywhere. Touchstone Crystal offers Swarovski sparkle in a unique and affordable line of jewelry designed for the everyday woman, made exclusively for Touchstone Crystal and sold only through their Independent Sales Consultants (in-person, online, and via catalog). Touchstone Crystal parties and online sales empower women, fuel their entrepreneurial spirit, and connect consultants to a global fashion brand. Touchstone Crystal jewelry blends on-trend and classic styles with the same craftsmanship, attention to detail, and unmatched precision-cut crystals celebrated on the red carpet and on runways everywhere – signature trademarks of the 120-year-old Swarovski name. http://www.touchstonecrystal.com
About Softeon
Softeon is a global provider of supply chain solutions, from planning through execution. Our modern platform is engineered to reduce complex problems into simple solutions for a faster time to market and lower cost of ownership. Users can implement solutions incrementally to solve a specific challenge, or deploy an integrated system. Configurable modules and rules-based solutions give market leaders the business agility they need to get ahead and stay ahead. Companies choose the flexibility and ease-of-use of the Softeon platform to drive higher business value and accelerate ROI. Deployment options include on-premise or in the cloud. For more information, visit http://www.softeon.com.