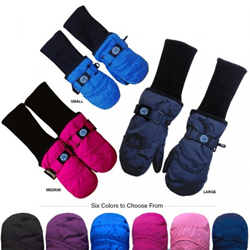 Chakka Snowblokka Children's Mittens Arrive Just in Time for Christmas
Elmsford, NY (PRWEB) November 30, 2016
The NY based company SoSoft is a brand that produces customer focused products such as specialty soaps and creams, laundry related items, swimwear, and other personal care products. They focus on high customer satisfaction and tailoring products to improve the everyday lives of consumers.
The fall of last year SoSoft introduced their Chakka Snowblokka mittens in 6 different colors and they were embraced by parents and their children across the globe. Most of the mittens had sold out before the winter was even over.
Chakka Snowblokka, like Santa and his elves, went into full production mode over the spring to produce thousands of mittens just in time for Christmas and the winter season. Chakka Snowblokkas are the perfect Christmas gift for children this winter!
The Chakka Snowblokka children's mittens are very unique in nature by way of not only being made of waterproof nylon with 3M Thinsulate. They are made with the patented long cuff sleeve technology (US Patent No. 6,363,534), to help prevent snow from getting onto the skin above the wrist. In order for this to function correctly, put the mittens on before the coat and that's it. Once this happens they don't fall off! The Chakka Snowblokka children's mittens are great for sledding, snowboarding, skiing and just plain old playing in the snow. Kids stay warmer and play outside longer. What more can a parent ask for. It's not hard to see why parents across the globe would want their children wearing these mittens.
Chakka Snowblokka children's mittens available in the 6 different colors: Black, Blue, Purple, Hot Pink, Navy Blue and Pink. Now any parent interested in purchasing a pair of mittens for their child has 6 color options in the three possible sizes -- Small, Medium and Large -- the Chakka Snowblokka come in.
Check out this customer video review of Chakka Snowblokkas and to put you in the Christmas Spirit: Chakka Snowblokka Mitten Video Review
The Snowblokka children's mittens can be purchased exclusively from Amazon.com and SoSoftbrands.com. SoSoft Brands has its headquarters in Westchester, NY and specializes in producing consumer personal care products, such as children's mittens, soaps, oils, swimwear and laundry accessories.