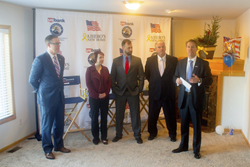 We are beyond grateful for this amazing opportunity," said Milosevic.
Forest Lake, Minn (PRWEB) November 23, 2016
U.S. Bank, in conjunction with Freedom Alliance, presented the keys to a newly-renovated, mortgage-free home to Minnesota native and medically retired U.S. Army Staff Sgt. Marko Milosevic and his family on Monday, Nov. 21. This was the eighth home donated across the country through the partnership between U.S. Bank and Freedom Alliance, a charitable organization which provides help and support to injured service members and military families.
"We are beyond grateful for this amazing opportunity," said Milosevic. "This home will provide my family and me with stability, comfort and safety and will also help continue my rehabilitation."
Milosevic was born in Minneapolis and grew up in Apple Valley. At the age of 17, he began his military career at Fort Benning in Georgia. In 2001, Milosevic graduated from Basic Training, Airborne School and was then recruited to the Ranger Indoctrination Program. He was assigned to the 2nd Battalion 75th Ranger Regiment, an elite special operations unit, where he spent nearly 10 years. In total, Milosevic was deployed 12 times to Afghanistan and Iraq. He earned numerous commendations over the years, including two Bronze Stars, one with valor and several Army Commendation Medals.
The Army Staff Sergeant was medically retired in 2014 and suffers from a traumatic brain injury, post-traumatic stress (PTS) and nerve damage to both arms and his back. In his spare time, Marko attends a PTS support group once a week at the Minneapolis VA. Like so many other Operation Enduring Freedom/Operation Iraqi Freedom Veterans suffering from PTS, he has faced challenges upon his transition back into civilian life. Milosevic is now using his past for the positive by working with his local county jail to help other veterans obtain the support they need from the VA. He also is in the process of helping to establish a Veterans Court in Beltrami County and volunteers with Veterans charities.
Milosevic is married with three children. He and his wife Samantha, have been married for three years. This newly renovated four-bedroom, three-bath house is donated by U.S. Bank's Housing Opportunities after Military Engagement (H.O.M.E) program, in conjunction with Freedom Alliance's Heroes to Homeowners program. Chronos Solutions, a real estate services provider, also contributed to the cost of the renovations made to the home.
Several U.S. Bank officials as well as representatives from Freedom Alliance were present to welcome Milosevic and his family to their new home, including:

Thomas Kilgannon, president of Freedom Alliance
Michael Ott, President, The Private Client Reserve, U.S. Bank, Col., United States Air Force Reserves, Retired
Phillip Trier, Twin Cities Market President, U.S. Bank
"U.S. Bank is extremely proud to partner with Freedom Alliance to present this home to Sergeant Milosevic, a veteran who valiantly served our country," said Michael Ott, president of The Private Client Reserve for U.S. Bank. "U.S. Bank is home to nearly 2,000 veteran employees and today we stand together with this home to recognize Sergeant Milosevic's service and sacrifice."
In addition to partnering with military service organizations such as Freedom Alliance, U.S. Bank supports veterans and military family members through Proud to Serve, an employee-led business resource group. Through Proud to Serve, each new hire is personally welcomed by leaders who are also veterans. Employees are also encouraged to use internal social networking forums to connect, network and share stories. U.S. Bank hired more than 470 veterans in 2016 and currently employs approximately 2,000 veterans. Learn more online.
"It's time for Marko and his family to be part of the great community of Forest Lake and make a lifetime of memories in their new home," said Freedom Alliance's Tom Kilgannon. "Freedom Alliance and U.S. Bank are proud that together we could provide Marko the home where he will continue to rehabilitate; where he will play with his kids and laugh with his wife Samantha. This home is where their new family traditions will begin and there is no better time to start than during the week of Thanksgiving."
Watch the home donation reveal video on YouTube: https://www.youtube.com/watch?v=RHCZRvpGsp8.
For additional photos, please visit: http://photos.freedomalliance.org/Heroes-to-Homeowners/2016-11-21-Lake-Forest-MN/.
About Freedom Alliance
Freedom Alliance is a charitable organization which provides help and support to wounded troops and military families. Freedom Alliance has awarded more than $10 million in college scholarships to the children of military heroes killed or disabled in military service and spent millions more helping injured veterans and military families with outdoor recreational therapy trips, Heroes Vacations, care packages for deployed troops, mortgage-free homes, all-terrain wheel chairs and much more. You can learn more about Freedom Alliance at FreedomAlliance.org and Facebook.com/FreedomAlliance.
About U.S. Bank
Minneapolis-based U.S. Bancorp, with $454 billion in assets as of September 30, 2016, is the parent company of U.S. Bank National Association, the fifth-largest commercial bank in the United States. The company operates 3,114 banking offices in 25 states and 4,875 ATMs and provides a comprehensive line of banking, investment, mortgage, trust and payment services products to consumers, businesses and institutions. Visit U.S. Bancorp on the web at http://www.usbank.com.
# # #
Contact:
Susan Beatty, U.S. Bank Corporate Communications, 612.303.9229, Susan.Beatty(at)usbank(dot)com
Althea Paul, Freedom Alliance, 813.321.3310, AltheaP(at)ConsultVistra(dot)com