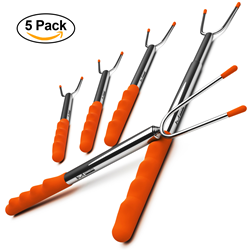 (PRWEB) November 25, 2016
With the holiday season just around the corner, mKitchen World, Amazon's favourite kitchen brand is excited to announce their offer. Customers have the chance to buy their Marshmallow Roasting Sticks set and the Silicone Basting Brushes with 50% discount and automatically become members of the mKitchen World Vip Club which comes with a number of benefits.
Membership in the mKitchen World VIP Club is normally offered to customers who purchase more than three products. With this limited time holiday offer, with the purchase of a set of marshmallow roasting sticks or silicone basting brushes, customers receive instant membership into the Club. The Vip Club benefits include free product insurance (product replaced free of charge or refund if the product has or develops a fault), exclusive access to new products with the chance to test them for free, big discount coupons during promotional campaigns and 50% off any next purchase from mKitchen World.
Enhanced with safety and comfort features, mKitchen World's set of 5 marshmallow roasting sticks are excellent cookware for open campfires, BBQ or portable grills. Made from food-grade non-toxic 304 stainless steel with heat-resistant rubber handles, the sticks are extendable to 45" and are perfectly safe for kids. They come with protective removable rubber tips so they won't poke any fingers when not in use. Great for safely roasting hot dogs, marshmallows, shrimp, potatoes, corn on the cob, baked potatoes, sausages or cherry tomatoes, the roasting sticks can be used when hiking, backpacking, mountaineering, camping, fishing, hunting and boating. When purchasing the product, a canvas pouch for transport and easy storage is also provided.
The versatile silicone brushes are designed to make baking, basting and cooking easier. Made from BPA-free silicone, they are heat-resistant up to high temperatures. The silicone bristles won't fray or shed, do not absorb odour and they last longer than regular brushes. They can be used on non-stick pans and the lightweight handle provides a soft comfortable firm grip making basting easy. The small brush is perfect for spreading liquids and glazes onto the surface of foods, like adding melted butter to the tops of cinnamon buns or some milk/cream to the top of a muffin before sprinkling it with coarse sugar. The bigger brush is a basting brush and is great for glazing meats and fish.The Silicone Brushes come in a set of 2, in four different colours: orange, red, green and blue. Customers will receive 2 e-Books with pastry and basting sauces recipes.
The offer ends on December 24th. To enter the mKitchen World Vip Club customers have to send an email to sales(at)mkitchenworld(dot)com with their name, address, email and Amazon order number.
About mKitchen World
The brand was created in 2015 as a result of its founder's passion for innovative and creative kitchen gadgets designed to save valuable time, make life easier in the kitchen, stand out and be efficient at the same time. Offering top-class customer service, the brand's success recipe is seeing every customer as a member of the mKitchen World family, listening to their feedback and implementing it straightaway. Find out more about mKitchen World and their amazing products on the official website.