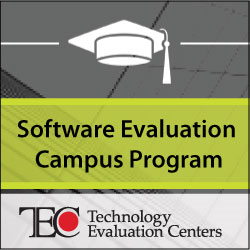 "Our Campus Program gives universities and business schools customizable, web-based tools and resources that teach students the practical aspects of evaluating software. "
Montreal, Quebec (PRWEB) November 25, 2016
Having recently passed the one-year anniversary of its formal launch, Technology Evaluation Centers' (TEC's) Software Evaluation Campus Program has been embraced by professors seeking a fresh, hands-on approach to practical student learning. The list of prominent universities signed on as complimentary participants of TEC's Campus Program now includes close to two dozen universities in several countries.
Drawing on its experience as an impartial software analysis firm that has helped thousands of companies select the right software for their unique business needs, TEC designed the Campus Program to help university students learn a detailed, "real world" approach to professional software evaluation and selection. The program teaches the same techniques used by IT and business management professionals in organizations of every size and type, in both the public and private sector.
Developed for use with undergrad and graduate students in business, management, and IT-related courses, the TEC Campus Program helps professors and students learn the fundamentals of objective software evaluation projects.
When professors sign up and use the resources and curriculum the Campus Program provides, students get the benefit of using TEC Advisor, TEC's powerful, web-based application that helps businesses make fully informed, impartial, and justifiable software selections quickly and cost effectively. Professors can select up to six different case studies to help students learn to conduct realistic software evaluations. Available software categories include:

Enterprise resource planning (ERP)
Business intelligence (BI) and data analytics
Customer relationship management (CRM)
Human capital management (HCM)
Supply chain management (SCM)
Financial management
The program is fully customizable to fit professors' needs within their curriculum, and many TEC resources are made available for student practice—all at no cost. Professors can even bring in a TEC software selection expert for a guest lecture.
As Seymour Walden, the head of the TEC Campus Program, explains, "Our Campus Program gives universities and business schools customizable, web-based tools and resources that teach students the practical aspects of evaluating software. This includes examining the detailed features offered by leading enterprise software vendors, and discovering how such features are used by businesses. The Campus Program gives students a unique opportunity to compare many software solutions head to head, which helps prepare them for the day-to-day realities of software evaluation they'll encounter in their careers."
To learn more about implementing the TEC Software Evaluation Campus Program in your curriculum, or for information about software selection services, please contact TEC at +1 514-954-3665 or online.
About Technology Evaluation Centers (TEC)
Technology Evaluation Centers (TEC) is the world's leading provider of software selection resources, services, and research materials, helping organizations evaluate and select the best enterprise software for their needs. With its advanced decision-making process and software selection experts, TEC reduces the time, cost, and risk associated with enterprise software selection.
Over 3.5 million subscribers leverage TEC's extensive research and detailed information on more than 1,000 leading software solutions across all major application areas.TEC is recognized as an industry-leading software selection advisory firm offer¬ing resources and services both online and onsite. For more information, please visit http://www.technologyevaluation.com.