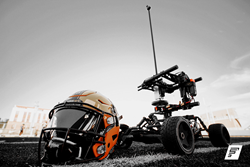 With this VR app, I have no doubt recruits nationally will see the football program in a whole new light and dispel any misconceptions. - Ashley DeWalt, CEO and founder of FusionSports
Houston, TX (PRWEB) November 28, 2016
FusionSports, a leading digital marketing agency that creates virtual reality (VR) experiences for sports brands, and the University of Minnesota Golden Gophers football program (led by Head Coach Tracy Claeys) have partnered to create cinematic VR content to enhance their recruiting efforts. The content will be featured in a custom mobile application launching this fall) custom designed for the football program.
VR has been consistently touted as the next medium for storytelling in multiple industries, but its many uses for sports are crystal clear. Sports are highly dynamic and action-packed, with a multitude of elements that make VR a natural method for effectively capturing on- and off-field experiences to foster a whole new level of engagement.
Understanding that phenomenon spurred this partnership. And together, FusionSports and the Golden Gophers captured behind-the-scenes VR footage of practices, workouts, game day, campus experiences, and more from their home opener against Oregon State. Capturing this footage enabled the Gophers to provide a truly immersive experience for fans and, more specifically, recruits.
With Coach Claeys being tech savvy and wanting to differentiate his football program from others, both in the BIG10 conference and nationally, he recognized the undeniable benefits of this new medium for storytelling and desired to establish his football program as one of the first to offer authentic and compelling VR experiences in collegiate athletics.
Claeys offered his thoughts on VR's effect on recruiting: "There's certain misconceptions people around the country have about life here in Minnesota, such as the weather. We wanted to not only dispel those, but help them understand what a day in the life of a Golden Gopher would be like, from player development to game day to campus and city life. This way, recruits could understand how amazing their athletic and collegiate experience could be by choosing UM. Virtual reality is the only way to do that efficiently."
In addition, the VR content featured in the mobile app will transport recruits from around the country to see, hear, and feel what it's like to be a student athlete at UM—a Golden Gopher. The app will also help to avoid noise from social media and keep recruits engaged and focused on the content. They can simply view the content on a pair of Google cardboard glasses or other VR hardware, such as the Oculus Rift and Samsung VR goggles, from the comfort of their home.
Coach Claeys is optimistic that this immersive, cinematic experience will give the University of Minnesota football program a competitive advantage and entice recruits to visit the campus in person and, ultimately, become a Golden Gopher.
And what's notable about the VR content is not the product itself, but how it was produced. FusionSports set out to identify the attributes and culture that set the Gopher football team apart and put them on display in unique fashion. With an all-access pass and the coach's buy-in, the agency captured footage using skydiving cameramen; powerful, custom-built drones; remote-controlled cars with stabilization features; and industry-leading, proprietary camera technology and rigs.
Ashley DeWalt, CEO and founder of FusionSports, noted, "Filming the Gophers was not only exciting for us, but also for the players, fans, and even Goldy Gopher. With this VR app, I have no doubt recruits nationally will see the football program in a whole new light and dispel any misconceptions."
About FusionSports
Since their inception in 2006, FusionSports has partnered with some of the most recognizable brands in sports to help them tell their story through social, digital, and virtual reality experiences. The FusionSports team is a passionate collective of former athletes, marketing thought leaders, storytellers, strategists, and designers dedicated to creating the most meaningful brand experiences in the sports industry.
Media Contact
Ashley DeWalt, CEO and Founder
Phone: 832.819.3873
Email: ash(at)fusionsports(dot)co
Website: http://www.fusionsports.co/vr
###