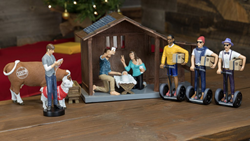 "The idea for this modern day nativity set was born with friends joking about what the birth of Jesus would look today in the age of iPhones, Amazon Prime, Segways, selfies and other 21st Century pop culture symbols," said Casey Wright
San Diego, CA (PRWEB) November 29, 2016
Hark! The herald angels sing, "Glory to the newborn King of hipster." Just in time for the holidays, San Diego-based, Modern Nativity has released its limited edition Modern Nativity Set that reimagines the birth of Jesus in the age of iPhones and man buns.
"The idea for this modern day nativity set was born at a happy hour with friends joking about what the birth of Jesus would look today in the age of iPhones, Amazon Prime, Segways, selfies and other 21st Century pop culture symbols," said Casey Wright, Modern Nativity co-founder. "We decided to make this hilarious idea into a reality and worked with a talented designer who brought our vision to life. What you get is a hand-crafted, hand-painted and life-like nativity set that will be sure to spark lively conversations during the holidays!"
The set features Mary giving her best duck face and throwing up a peace sign while holding her to-go coffee and posing for a selfie with Joseph who sports a man bun. Baby Jesus is wrapped up in a handmade beanie while the three wise men arrive on Segways (via Google Maps of course!) carrying Amazon Prime boxes. The shepherd is snapchatting the scene to his millions of followers while a nearby free-range 100% organic cow enjoys gluten-free, all-natural grass feed and a sheep rocks a Christmas sweater.
The Modern Nativity Set is available now for $129.99 at http://www.modernnativity.com. Limit three sets per customer.
For more information, follow us on Instagram and share your photos @modernnativity, #hipsternativity, #modernnativity and #millennialnativity.