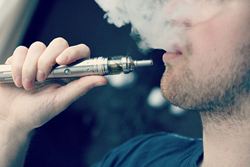 Smile Boutique Beverly Hills notes that...it's especially important for individuals who vape to maintain outstanding oral hygiene habits
Beverly Hills, CA (PRWEB) November 30, 2016
New research reveals that electronic cigarettes are actually just as harmful or even worse than regular cigarettes when it comes to harming teeth and gums, according to a November 17 article published on Medical News Today. Southern California based dental group Smile Boutique Beverly Hills notes that, while individuals may believe that substituting smoking for vaping may be less harmful, the new research indicates that, when it comes to oral health, it's especially important for individuals who vape to maintain outstanding oral hygiene habits. Smile Boutique Beverly Hills notes that individuals can take a variety of precautions to properly maintain their dental health, such as:
Avoiding Smoking/Vaping- Smile Boutique Beverly Hills notes that although many men and women are swapping out their traditional cigarette habits for e-cigarettes in an attempt to avoid further damage to their oral and overall health, the best way to avoid the damaging effects of tobacco and other cigarette-related chemicals is obviously to completely quit smoking or vaping. The Southern California based restorative dental group notes that tobacco use has been associated with numerous oral complications and diseases, such as gum disease and mouth and throat cancer. By avoiding tobacco or e-cigarette use, individuals can drastically decrease their chances of suffering further damage to their oral health.
Daily Tooth Brushing - The Southern California based cosmetic and restorative dentistry notes that individuals who vape or smoke can help to reduce the damage and better maintain their oral health by simply brushing daily. With regular brushing, especially after meals, individuals can reduce the amount of plaque and bacteria that can build up in their teeth and gums. However, Smile Boutique Beverly Hills adds that a leading-edge dental group can provide a variety of services, such as teeth whitening in Beverly Hills, which can safely and effectively restore the appearance of teeth that may be stained due to smoking, coffee and other dark beverages, and poor oral hygiene habits.
Keeping Routine Dental Visits- Smile Boutique Beverly Hills goes on to note that routine dental visits can also help individuals maintain their oral health and are especially important for patients who continue to vape or smoke. A highly skilled and extremely experienced dental professional can effectively asses the condition of a patient's teeth and gums in order to address any underlying conditions that can otherwise cause significant damage if left untreated.
Smile Boutique Beverly Hills concludes by noting that, while quitting is ideal, taking preventative measures and implementing good oral hygiene habits into their daily routine can help individuals who continue to smoke or vape maintain their overall dental health. Readers who are interested in learning more about the variety of cutting-edge dental services provided by Smile Boutique Beverly Hills are welcome to call the dental practice at (424) 281-0959 or visit their website at http://smileboutiquebeverlyhills.com/.