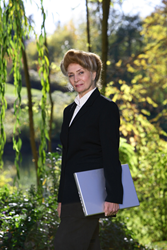 Grants Pass, OR (PRWEB) November 24, 2016
Sharon Kleyne, host of the nationally syndicated radio program, The Sharon Kleyne Hour Power of Water, Global Climate Change and Your Health on Voice of America, shared during a recent radio show her frightening discovery of more than two decades ago—Earth is drying up. Though Kleyne has dedicated her life since then to researching water and health, she warned that the problem has gotten worse.
"As fresh water diminishes and pollution increases," said Sharon Kleyne, "the air's moisture also diminishes. When the atmosphere's water vapor over-evaporates," Kleyne continued, "the body's defenses become compromised, threatening health with a laundry list of diseases and maladies." Kleyne pointed out that dryness and evaporation lead to dry eye disease, allergies, skin conditions, organ stress and failure, sleeplessness, fatigue, cancer, diabetes and a host of other afflictions.
Sharon Kleyne, founder of Bio-Logic Aqua® Research Water Life Science®, declared that the solutions to our ills lie in the water itself. "We need government planning and execution to protect surface water," Kleyne said. "Far too much of it runs right off into the oceans. We also need to build up the water reserves below the surface," Kleyne added, "to ensure that every child, woman and man has enough clean water."
Sharon Kleyne, America's leading water research technology expert, has taught millions about earth's water vapor (we cannot breathe without it) and the body's water vapor (if we dry out too much, we die). Yet, she is frustrated by what she perceives as general apathy about the situation. "People have a tendency," Kleyne said, "to say 'oh, it's only water', but what do you think these same people will say when there suddenly is none?"
Sharon Kleyne wants people to get serious about their health, and that requires much greater awareness about water and all it does for you. "Remember that we are 70% to 75% water," Kleyne said. "Our organs are mostly water; our skin is mostly water; the tear lenses of our eyes are 99% water! Without water supplementation," Kleyne continued, "you can't see; your organs can't function, and you can't breathe. You need that water vapor in the air to breathe."
Sharon Kleyne hopes that scientists will expand water research leading to new breakthroughs. Kleyne also asked educators at all levels to develop curricula that will teach the technology of water to everyone. "We can't afford to wait on any of this any longer," Kleyne warned. "We've sat on our hands and been distracted for too long." Finally, Kleyne would like to see children organize and become much more active in new water technology. "No matter our age," Kleyne concluded, "we need to step up and embrace a new Water Life Science® lifestyle. It's exciting, and it is necessary."