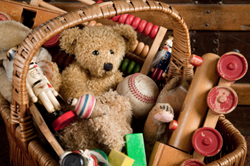 (PRWEB) November 27, 2016
JMJ Phillip, an Executive Search Firm, is calling on companies to join in their annual season of giving by supporting Toys for Tots this holiday. Leading by example, JMJ Phillip Executive Search recently announced that they will match all toy donations with an equivalent contribution up to $2,500 in total for the 2016 season.
The recruiting firm is making it easy to donate with several different options. Toys may be dropped off at JMJ Phillip's office Monday through Friday between 8 a.m. and 6 p.m., located at 755 West Big Beaver, Floor 2100, Troy, MI 48084. JMJ Phillip will also offer to drop off collection boxes at various businesses local to the Metro Detroit Area. Arrangements for donation pickups can be made by calling JMJ Phillip during office hours (248-686-1827). Lastly, contributions are also accepted and matched by posting a picture of the new toy for donation on JMJ Phillip's Facebook or Twitter pages.
"Donating to Toys for Tots has become a holiday tradition at JMJ Phillip. Our executive recruiters, professional resume writers, and management leaders are very motivated and enthusiastic about these volunteering opportunities," said Dennis Theodorou, Vice President of Operations.
Toys for Tots collects new, unwrapped toys during the holiday season. Toys for all ages are welcome, but there is typically a higher demand of toys for older children. After all the toys are collected, they will be presented to the United States Marines, and then distributed throughout churches and social welfare agencies to those most in need. Toys for Tots was founded in 1947 and the campaign is an annual toy collection drive that now reaches 50 states.
About JMJ Phillip:
JMJ Phillip Executive Search is a global full-service boutique Executive Search Firm specializing in the Manufacturing, Supply Chain and Technology sectors. An industry leader and division of JMJ Phillip Holdings, JMJ Phillip Executive Search began more than 15 years ago when the founder converted immense experience of manufacturing technology consulting into providing talent to the executive search industry. With multiple locations nationwide, along with a profound network of various workforce type brands, JMJ Phillip Executive Search is continually rising to be among the world's most reputable executive search firms. For additional information regarding JMJ Phillip Executive Search, please visit jmjphillip.com or call 877-500-7762.