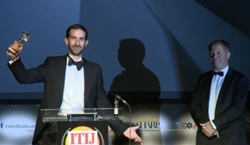 "Winning this award is a proud moment, and a sign of trust in our company."
Luxembourg (PRWEB UK) 28 November 2016
European Air Ambulance is flying high after picking up a coveted global award, recognising its commitment to patient care, ground-breaking innovation and ongoing investment. The company was crowned Air Ambulance Provider of the Year for 2016 at the International Travel and Health Insurance Journal Industry (ITIJ) Awards in Berlin – an honour reserved only for those companies at the very forefront of the industry worldwide.
EAA's pioneering infectious disease module and self-developed stretcher system for heavier-weight patients were singled out for specific praise - and helped the Luxembourg-based company win the votes of clients and industry colleagues. They beat competition from air ambulance providers in Africa, the USA and Canada to take the award, which is given to companies 'that have made an outstanding contribution to the global travel and health insurance industry over the previous 12 months'.
EAA Director of Sales & Marketing, Patrick Schomaker, said: "Winning this award is a proud moment, and recognition of the professionalism and dedication that underpins EAA. Our 165 staff work incredibly hard, and we would all like to thank our clients and others in the industry who voted for us - we take this as a sign of trust in our company. EAA's focus on patient care and client services is renowned, and we are continually looking to improve, invest and innovate."
The company's infectious disease module, developed in collaboration by the in-house medical department to safely transport suspected Ebola patients, is unique in Europe and allows for life-saving treatment to be administered while minimising the risk of the spread of disease in transit. The module is being adapted and developed on an ongoing basis to allow its use with an increasing number of infectious diseases.
The innovative stretcher system for heavy patients - the only certified weight transportation stretcher on the market – helps overcome some of the particular challenges associated with the transport of larger patients, allowing for greater personal comfort and easier medical access.
And EAA's neonatal and paediatric service is second to none, with the most advanced medical equipment and highly experienced staff on hand, plus the introduction of a children's book designed to explain the transport process to young patients.
The ceremony in Berlin was hosted by ITIJ Editor-in-Chief Ian Cameron and ITIJ Editor Sarah Watson, and the Air Ambulance Provider of the Year award was presented by Larry C. Baker, from sponsors UC San Diego Health.
The achievement came towards the end of a year when EAA fully settled in to its new state-of-the-art headquarters at Luxembourg Airport, with all staff now under one roof and making the most of the improved communication and logistical support this allows, as well as exceptional in-house training facilities.

European Air Ambulance (EAA) is one of the largest specialised air ambulance service providers in Europe offering worldwide air ambulance repatriation with outstanding end-to-end patient care.
EAA founder Luxembourg Air Ambulance has a record of over 27 successful years of experience in air ambulance services with medical repatriation experience from over 150 countries worldwide, giving EAA one of the broadest expertise in the air ambulance industry.
EAA provides its services 24/7/365 throughout the world and can also rely on a network of international co-operation agreements, which ensures speedy and smooth execution of intensive care transports with bed-to-bed service.
http://www.air-ambulance.com/
European Air Ambulance
Branch of Luxembourg Air Ambulance S.A.
Patrick Schomaker, Director, Sales & Marketing
Luxembourg Airport
Gate E13, Findel (L)
P.O. Box 24
L-5201 Sandweiler
LUXEMBOURG
+352 420 440 350