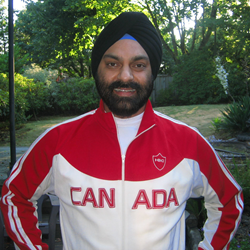 Have a goal that's lofty enough that it can be dreaming, but have a dream attainable enough so that it is accomplishable.
Vancouver, British Columbia (PRWEB) December 13, 2016
Life for Ram Nayyar did not start out with anyone who knew him declaring him a candidate for success in life. Ram grew up in Canada and was the only student at his school who was a Sikh of Indian heritage. His darker skin and long hair made him an easy target for bullies. Fortunately, 'Coach Ram' as he is called, found a path that led to success as an Olympic Badminton coach for the Canadian National Team and as a life coach for people who need help believing in themselves and in their ability to reach their own goals. The lessons and life coaching he shares with his team and others is now available in a new book he wrote entitled, "The Sport of Life: Reaching True Happiness & Success". Coach Ram's book can be found at https://www.amazon.com/Sport-Life-Reaching-Happiness-Fearless-ebook/dp/B01M8I8GHO/. In it Coach Ram describes how the influence of a teacher and a random ankle injury sent him down the path he is on now, which is to the benefit of anyone who reads it.
A Few Words Change Everything
The new book is full of personal stories about how Coach Ram dealt with life on the prairies of Canada, where being different was an invitation to being bullied and excluded from normal elementary and middle school society. The defining moment in his life came when he received a note from one of his eighth grade teachers. In this note, the teacher wrote that Ram was 'perfect just the way he was'. As he describes in the book, "when he handed me the note, I was in a dark place. All the years of bullying had planted hatred in my heart, and I had become very silent. It was easier to be quiet and not get noticed, but those few words changed my perspective."
The Sport of Badminton
As a young adult, Ram discovered that he loved playing badminton, but an ankle injury sidelined him from competition. As he sat near the court one day, a girl showed up for a lesson with her coach, but the coach was not there. Rather than ignore her while she waited, Ram offered to rally with her. As they hit back and forth, Ram gave her instructions and tips that would improve her game. He was coaching badminton for the very first time and not without a positive result. Another hand written note from this girl influenced Ram profoundly; "Thank you very much for hitting with me. It was lots of fun."
Coach Ram
As an adult, Coach Ram has travelled to 90 countries and coached his fellow countrymen to success at the Olympics. Sports often provide the best life lessons and badminton is no different. Coach Ram shares those lessons from his early life spent as a punching bag for ignorant bullies to one who refuses to accept the stereotyped niche that someone else has chosen. As he writes:
"Here is what I want you to know. It doesn't matter how your life starts. It does matter how it finishes, and you have a choice in that. You can choose to change. I started out as one that no one except the bullies wanted near them. I was the kid that was different and stuck out like a sore thumb. I wasn't popular in any way, shape or form and yet I was able to rise above that." – Coach Ram.
To learn more about Coach Ram visit his web site at: http://www.coachramnayyar.com.