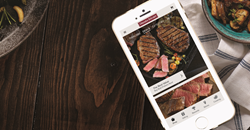 "With this new feature, our selection of gourmet holiday gifts has never been more easy to send. It takes just a few minutes to shop by recipient, occasion, budget, or send a gift card."
Omaha, Neb. (PRWEB) November 28, 2016
Omaha Steaks, a fifth generation, family-owned company and the nation's leading provider of exceptional grain-fed beef and premium gourmet foods, makes gift giving easy with their newly-launched iPhone application gifting feature.
Introduced last month, just in time for the holiday season, the mobile gifting feature comes in direct response to increased adoption of mobile devices among holiday shoppers. According to the Deloitte 2016 Holiday Survey, 78 percent of smartphone owners will use their smartphone in their holiday shopping process, and 43 percent plan to use their device to make a purchase this holiday season.
"Because of the increase in popularity of smartphone shopping, particularly during the holidays, we wanted to bring the convenience of mobile gifting to our customers," said Senior Vice President and Family Owner Todd Simon. "With this new feature, our selection of gourmet holiday gifts has never been more easy to send. It takes just a few minutes to shop by recipient, occasion, budget, or send a gift card."
To kick off the mobile gifting feature and the online gift-giving season, Omaha Steaks is offering free shipping on select gift packages for Cyber Monday, including: The Tasteful Gift, The Bountiful Gourmet, The Seasonal Special, The Holiday Table, A Bacon-Wrapped Holiday, Omaha Steaks Banquet of Classics, Gourmet Gathering Gift, Top Sirloin Gift, Fireside Feast, BBQ & Bake Combo, An Autumn Abundance, Heart & Sole Combo, and a combo of 5 Omaha Steaks Crock-Pot® Slow Cooker meals.
The Omaha, Nebraska-based company has been offering gift packages of steaks and assorted gourmet foods for five generations, and has long been the "go to" gift for American consumers. The ease of shopping by online, by phone, or in Omaha Steaks stores nationwide, makes the company a great choice for one-stop, stress-free gift giving.
"Food gifts provide an experience, an occasion and reason to celebrate with family and friends which is what the holidays are all about," Simon added.
Omaha Steaks is encouraging customers to place holiday orders prior to Monday, December 19 to ensure delivery before the holiday. For more information about Omaha Steaks holiday gift packages, visit http://www.OmahaSteaks.com.
About Omaha Steaks
Omaha Steaks, founded in 1917, is an Omaha, Nebraska-based, fifth-generation, family-owned company that markets and distributes a wide variety of the finest quality USDA-approved, grain fed beef and other gourmet foods including seafood, pork, poultry, side dishes, appetizers, complete meals and desserts. Today, Omaha Steaks is recognized as the nation's largest direct response marketer of premium beef and gourmet foods, available to customers by calling 1-800-228-9055, online at http://www.OmahaSteaks.com or at retail stores nationwide.
###