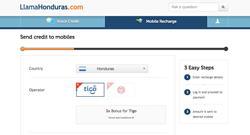 Servicio garantizado y con rapidez. (Jose Irving Cruz, customer)
Atlanta, Georgia (PRWEB) November 26, 2016
LlamaHonduras.com hosts a new promotion for those who live abroad and send mobile credit to a Tigo mobile in Honduras online, in seconds, until November 30, 2016. On every top up made to someone in Honduras who uses a Tigo prepaid mobile, LlamaHonduras.com adds automatically 200% free extra credit. The offer is available on LlamaHonduras.com until November 30. The top up process takes few seconds and the top up is instant with LlamaHonduras.com: https://llamahonduras.com/buy/mobile_recharge
Mobile credit can be transferred online on LlamaHonduras.com in seconds, and there are regular promotions on LlamaHonduras.com that bring extra credit. Payment is possible with any major card or Paypal account, no matter the currency of one's bank account. Plus, no contract is needed. Mobiles get the top up balance instantly, and customer support team is available 24/7 in both Spanish and English.
There are certain conditions to send the 200% Bonus along with top ups to Tigo mobiles in Honduras, made from anywhere in the world. First, in order to receive the credit, numbers should be topped up on certain days to receive the Bonus. These days depend on the end of the phone number, as it follows:

Monday recharges for numbers that end in 0 or 1
Tuesday recharges for numbers that end in 2 or 3
Wednesday recharges for numbers that end in 4 or 5
Thursday recharges for numbers that end in 6 or 7
Friday recharges for numbers that end in 8
Saturday recharges for numbers that end in 9
The promotional balance can be used to make calls and SMSs to all networks in Honduras, as well as to the USA and Canada, and for buying an Internet package. The promotional balance does not expire. More details about the use of the credit received through this promotion can be found with the local provider, Tigo Honduras.
Besides top ups to Tigo mobiles in Honduras, LlamaHonduras.com makes available top ups to Claro mobiles too. It takes less than a minute, and the top up to a Claro mobile is instant.
Expats make 90% of LlamaHonduras.com customers and fans, and the number one resource that led to the website and service optimization. Many of them send top ups as a gift, because they are easy to send. Others find mobile recharges a practical and quick way to support family back in Honduras at any time of the day and night.
A second expat service on LlamaHonduras.com is the Voice Credit. It helps make international calls. For $10 Voice Credit one gets 91 minutes to call landlines in Honduras or 62 minutes to call mobiles there in 3 different ways:
-using Access Numbers like with any calling card, without the need for Internet connection
-from KeepCalling app available for Android and iOS devices
-from Web Call to any phone (Web Call is a desktop app available in one's LlamaHonduras.com account)
Thank You points are added automatically on every purchase on LlamaHonduras.com, no matter if it is Mobile Recharge or Voice Credit. These points can be converted into calling credit for international calls when one collects 1000 in his or her account.
LlamaHonduras.com has been optimized by now thanks to expats' feedback. According to existing customers that leave comments on review platforms, it is an easy and economical alternative to offline mobile credit top ups.
It costs nothing to open an account on LlamaHonduras.com, and it comes with a range of advantages:
-No contract between the provider and the customer.
-Mobile-friendly website and free KeepCalling app app for international calls.
-Payment is welcome in any currency, and Paypal is accepted besides all major cards.
-Safety of transaction is guaranteed by the certifications on the website: "Verified & certified", Trustee, etc.
-The account costs nothing and is available in both Spanish and English.
-Voice Credit is the service that offers balance for international calls at low rates, and it never expires.
-Free features can be activated any time to make international calls feel like local calls in terms of price, dialing procedure, phone Contacts import and connection.
-All transactions are available in one's account at any time, and the call record is displayed in the account for the last 30 days.
-Users get major offers by email if they press the "Get offers" button on the homepage.
-Customer Service is known as highly supportive; it is available 24/7 in both Spanish and English, and other international languages.
-There are no hidden fees on any of the products (Voice Credit, Mobile Recharge)
-Multiple actions from the same account. A Honduran expat can buy Voice Credit for his/her international calls, and occasionally top up a mobile in Honduras using the same account.
-There are 3 different ways to call and text with and without Internet access: a smartphone app for Android and iOS, called KeepCalling, access numbers that require no Internet access and can be used from landlines, pay phones, smartphones and old generation phones; and Web Call desktop app that requires no download (available in one's account) for calls from PC to phone.
LlamaHonduras.com is a website dedicated to Hondurans worldwide, travellers or professionals who live abroad temporarily. The website is a brand of KeepCalling, with 14 years of experience on the global market. The mother company is a telecommunications business registered in 2002 in the USA, listed by Inc 5000 as one of the fastest growing companies in the USA for 5 consecutive years. Presently, KeepCalling provides its services to hundreds of thousands of consumers and businesses, with a focus on customer satisfaction. In 2015 the company registered a revenue increase of over 200% from 2011 to 2014.