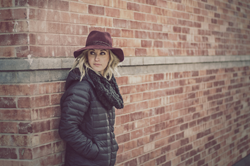 Our encore heated jacket, is half the weight and has a more efficient battery and keeps users warm in frigid temperatures either as a heated liner or a stand-alone jacket
Provo, UT (PRWEB) November 28, 2016
Ravean, the heated jacket trendsetter that raised more than $1.5 million with the world's first heated down jacket in 2015, has introduced yet another hot jacket on Kickstarter.
Ravean's Ultra-Light Down Heated Jacket shattered its campaign goal in a matter of hours and has raised more than 10X its goal early in the campaign. With over $206,000 of support from over 1,100 backers (and counting) consumers looking to brave the cold in style, still have 32 days left to take advantage of early bird pricing.
"This never gets old, and we're excited that we're keeping our backers around the world warm with our latest creation," said Ravean Co-founder Bryce Fisher. "Our encore heated jacket, is half the weight and has a more efficient battery and keeps users warm in frigid temperatures either as a heated liner or a stand-alone jacket."
Ravean quickly earned a worldwide reputation as an industry leader in heated down jackets last year when the original became the second-most funded apparel item in crowdfunding history – raising more than $1.54 million on Kickstarter and Indiegogo with the backing of nearly 10,000 global consumers
"We're never satisfied with our success," added Fisher. "We are always looking for ways to get better, and it shows in our new, lighter and thinner Ravean Ultra-Light."
With a simplified heating system, the new Ravean jacket weighs only 80 grams, half the weight of the original jacket, and it's about one-fifth the weight of a typical bulky down winter jacket. Its slim fitting design makes it an ideal mid-layer that can go with any jacket, anywhere – even in the arctic.
Raven, famous for bringing the heat and the latest technology to its apparel, has also increased the jacket's mobile smartphone charging ability – which can now re-charge mobile devices up to four times on a single jacket charge. The heating elements are located on the back, chest and pocket areas of the jacket, putting the heat where it's needed most, and it comes with low, medium and high settings.
Despite being ultra-thin, those wearing the latest Raven jacket will keep warm at temperatures as low as 5 degrees Fahrenheit (minus-15 Celsius), and it can also be used in sub-zero temperatures when worn as a heated liner under a shell.
Additional features include:

Sleek, slim-fitting styling
Improved rip guard shell
Durable water repellent (DWR) coating
Aluminum heat-reflective lining to keep heat in and keep the elements out
Hydrophobic down insulation, enables it to dry faster, repel water and retain loft when damp
Removable hood and rear drop tail back protection (for sitting on cold seats, rocks, rowing, etc.)
Exterior chest pocket
Pocket zipper pulls and improved zippers
New tuckable enlarged inner cuff and under arm stretch panels
Ability for wearers to use their own QC 2.0 2amp battery
Capability to charge mobile devices up to four times on a single jacket charge
Washer and dryer safe
A limited number of super early-bird specials are available for crowdfunding backers priced at $99 for the jacket and $139 for the jacket and a high-capacity 100 mAh battery.
For more information or to pre-order, visit the Ravean Ultra-Light campaign page on Kickstarter.
About Ravean
Let's be real here for a moment; we're not the first people to come up with the idea of heated jackets or heated gloves. We're just the first ones to do it right. By doing it right we mean our jackets look good, they're durable, they're affordable and they integrate our technology seamlessly and unobtrusively. Finally, there's a heated jacket you can wear with equal comfort and style from the mountains to the office without missing a beat. Sure, it's been tried before, but other solutions have been pricey, ugly and the technology was problematic. Ravean has addressed and solved each of these issues to present jackets you can wear anywhere, that are as stylish and durable as they are warm and cozy. For more information, visit ravean.com