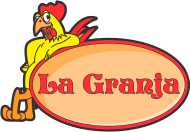 Boynton Beach, FL (PRWEB) November 25, 2016
La Granja Restaurant at 3240 Old Boynton Road, Boynton Beach, FL 33436 is one of almost 50 La Granja locations in South Florida. In recent years, Peru's eclectic cuisine has earned acknowledgement as one of the world's finest, and La Granja offers it fresh, fast and affordable.
La Granja in Boynton Beach is open until 10 p.m. today on Black Friday for hungry shoppers who want to eat delicious Peruvian food.
La Granja has continued to expand throughout South Florida to almost 50 locations since 1995, including 9 franchises, despite tough competition. In every La Granja location, customers can choose to dine in or take out a meal to enjoy at home. They also offer family meals that serve four or more.
La Granja Restaurants is an authentic, family style Peruvian food restaurant chain that has become a popular family favorite for more than two decades. La Granja is widely known for its delectable, made from scratch, whole food Peruvian specialties that are offered fresh daily in over 40 locations throughout Florida.
La Granja's signature dish is Pollo a la Brasa. This Peruvian-style roast chicken is so delicious—and popular—that it's now available in cities around the globe. At La Granja, this special roasted chicken is available in whole, half, quarter or boneless breast servings, all accompanied with rice and beans. Chicken wings with French Fries are also offered on the menu.
La Granja has also made a name for itself in South Florida for its generous support and strong ties to the community.
In 1993, members of the Bartra family founded La Granja in Aruba. The restaurant evolved into a robust empire with more than 40 locations in Florida today. The Bartra family credits La Granja's great success to their hard work, as well as being afforded the chance to prosper in the United States of America, which they truly believe is the land of opportunity.
For further information and to search for the nearest location, visit https://www.lagranjarestaurants.com/en/
Additional contact information:
La Granja Corporate Office
3907 NW 49th Street Tamarac, Fl 33309
Phone: (954) 968-7988
info(at)lagranjarestaurants(dot)com
https://www.lagranjarestaurants.com/en