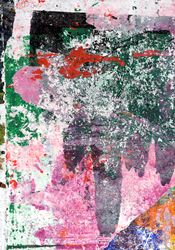 "People linger in contemplation not only over the compelling imagery but over the inscrutable complexity of the technique and paint-handling. No one has fully figured out how he did them."
Miami, FL (PRWEB) November 28, 2016
The innovative painterly work of Gil Cuatrecasas [1935–2004], a brilliant but reclusive visionary colorist, had been buried for the last forty years — and nearly discarded. "The Cuatrecasas Discovery" is making its first appearance on the East Coast at Art Concept, after having made its debut earlier this year in Los Angeles where a feature article in the Los Angeles Times concluded that "No one has ever painted like this."
On display at the Rediscovered Masters booth, Cuatrecasas' works display a particular form of action painting exemplifies how web-like configurations of color and surface become a free-floating energy in the world, suggesting an existential stance regarding the intersection of art and life.
Escaping Spain with his family during the brutal Franco regime, Cuatrecasas grew up in the United States. He studied with Josef Albers at Yale in the 1950s and became part of the Washington Color School. His works were shown at the museums of modern art in Buenos Aires, Rio de Janeiro, and Barcelona, and in 1965 he enjoyed a solo exhibition at the Corcoran Gallery of Art. In 1966 he suddenly resettled in his native Spain, where he broke out with an entirely new brushless style and technique. His large, bold paintings of colorful dendritic patterns form a transcendental botany. But in his spiritual exploration, he became reclusive and shunned galleries. In 1976 a series of tragedies ensued with heartbreak and self-destruction, and within a few years, his collection remained buried in storage — until now.
Art historian Peter Falk underscores the surprise that, for Cuatrecasas, the artist's style, as well as his technique, are unique in the history of painting.
"These paintings elicit a strong visceral reaction," says Falk, "People linger in contemplation not only over the compelling imagery but the inscrutable complexity of the technique and paint-handling. No one has fully figured out how he did them."
Here's a compelling video that anticipates a documentary film on the secret painter of the Color Field Movement.
For more information, images and press pass, media(at)nextlevelfairs(dot)com, or visit Next Level Fairs