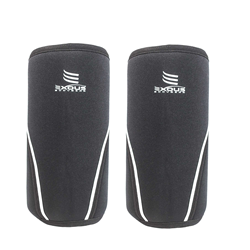 We listen to what the athletes need and we make the products that stand out from the rest. A Longer length, stronger SCR Neoprene and 6 size variations will cater for almost every individual
CHICAGO, IL (PRWEB) December 05, 2016
The new knee compression sleeves come as a pair which will provide instantly greater value to the individual looking to buy neoprene knee sleeves for lifting and any sport that requires knee compression or protection from the demands of the activity. The design focuses heavily on two main aspects to provide a higher quality knee sleeve performance. Firstly it is made out of premium 7mm thick neoprene material which has stronger tensile strength and elastic qualities of SBR neoprene. Secondly the design is specifically longer typically by 2cm or 0.7" on the front aspect of the knee sleeve.
The Product can be used as knee sleeves for squats, cross-fit, basket ball, volleyball and general exercise which stresses the knees. Research and development from EXOUS Bodygear showed that athletes and sporting enthusiasts were wanting more length for increased support around the knee joint. Current market offering tend to be all the same with a length of 26cm (10.5") with a few models as an exception. The increased length also gives more surface area material thereby allowing greater grip over the lower quadriceps muscle meaning there is less adjustment needed to stay in position during exercise.
> Support for injured knees providing heat and warmth to aid recovery
>As a preventative aid to increase the intra-articular pressure around the knee giving support under stress
>As a general compression aid to also receive pain from soft tissue aspect of the patella and meniscus
The EX-277 knee compression sleeves also come in 6 different sizes for the most popular knee circumferences and also the two ends of the extreme for knees on the smaller side under 12" in circumference to XXL with knees over 18", This brand size range means it can be suitable for youths, women and large built athletes who have large built thigh muscles who will require larger sizes.
"Keeping true to our brand ethos - different by design - we listen to what the athletes need and we make the products that stand out from the rest. A Longer length, stronger SCR Neoprene and 6 size variations will cater for almost every individual needing knee sleeves for exercise or therapy." Mannie Kaur Brand manager had said.
The EX-277 Knee sleeves are available on amazon.com and all of amazon Europe including the UK, Italy, Germany, France and Spain. The Price will be for 1 pair and will be competitively priced compared to the current market offerings. A knee sleeve review video helps explains the key features and benefits over the current market offerings.
About EXOUS Bodygear
EXOUS Bodygear are a sports and fitness brand dedicated to making high-quality functional products that meet the needs of the consumer. Our brand ethos is "different by design" making new and exciting products that have been designed to offer more function, features and value to what is in the marketplace already.