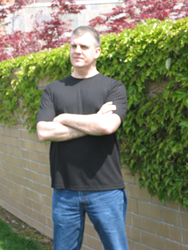 The host will provide an in-depth and probing interview...
Sacramento, California (PRWEB) November 27, 2016
Author Lawrence BoarerPitchford is going to be interviewed by the incomparable radio personality Stu Taylor on November 30th 2016 at 9:00 a.m. (EST). The Stu Taylor radio show is well known for its reviews of books and authors, business, politics, religion, and issues-of-the-day. The host will provide an in-depth and probing interview that will present the listener with insight into the creative workings of the author's process, his published novels, and his new book Harrow's Gate.
Also, the Book Nymph will be performing various promotions for the author Lawrence BoarerPitchford between November 28th to December 2nd. Head over to the Book Nymph PR site and check out the schedule. In addition, on Friday November 2nd a virtual-book release party will be held at the Book Nymph RP Facebook site. Drop by the Book Nymph site and sign up – it is an event that will be sure to please with interviews, games, and prizes!
Lawrence BoarerPitchford is the author of such works as Thadius, The Lantern of Dern Blackhammer, Sawbones, In the World of Hyboria (Book 1 Grim Determination and Book 2 The Ties that Bind), as well as the irreverent and cheeky novel Tales of Mad Cows and Brothels.
Lawrence works and lives in the Sacramento region of California. His work can be found on Amazon Books, Smashwords, Barnes & Nobles, and iBooks. Take a moment to explore http://www.BoarerPitchford.com and visit the author on Facebook, Twitter, and Goodreads.