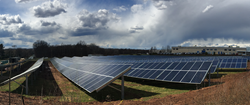 We structured this as multiple systems in order to maximize value for TOMZ.
Berlin, CT (PRWEB) November 28, 2016
A leader in manufactured parts for medical device, healthcare and aerospace applications. Now they are also hosting a state of the art 1.12MW solar array at their 95,000 square foot Berlin, Connecticut location. The power produced by the system both reduces their carbon footprint and significantly lowers their operating costs. TOMZ owns and operates the system, which was developed and built by Dynamic Energy.
TOMZ offers services that range from in-house product design to turnkey product manufacturing.
"As a high-tech company, it didn't make sense for us to be relying on higher cost, low-tech traditional fossil fuels," said Gary Labbe, IT Manager, TOMZ Corporation, "this installation responds to our need to be environmentally responsible and has the added benefit of reducing energy costs which will help us remain competitive in the marketplace."
said Michael Perillo, CEO of Dynamic Energy, "the final design included two rooftop and one ground mounted solar field. We maintained TOMZ operations on-site through construction and interconnection, adopting our deployment strategy to work around their core business."
About TOMZ Corporation
TOMZ Corporation of Berlin Connecticut was founded in 1988 and is a leader in the manufacture of parts for major medical device, healthcare, laboratory diagnostic and aerospace industries. Their 95,000 square foot facility houses state of the art CNC machines, inspection equipment, marking, cleaning, assembly and shipping. With approximately 120 exceptional employees, they produce the highest quality parts, accurately and on time.
About Dynamic Energy Solutions, LLC
Dynamic Energy is a turnkey energy solutions provider that develops, finances, engineers, constructs and operates projects for corporate, industrial and institutional customers. Dynamic builds energy projects that reduce customer expenses, improve operating efficiency, provide an attractive return on investment and achieve sustainability goals. For more information please visit http://www.dynamicenergyusa.com or call 1-877-809-8884.