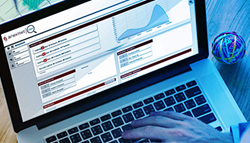 Anexinet View allows my team to manage all of our HP devices and contracts in a single easy to use interface...
Philadelphia, PA (PRWEB) November 28, 2016
Anexinet Corporation, a leading regional provider of digital, analytics, and hybrid IT solutions, announced the availability of "Anexinet View"—a comprehensive information platform that efficiently manages IT assets and support contracts.
Keeping track of hundreds of contracts with various manufacturers, each with different service levels and expirations, can be laborious and expensive. IT organizations continually struggle to effectively manage their support contracts because they often do not have the necessary skillsets or dedicated resources. Instead, management becomes burdened with the tasks, diverting them from other key responsibilities.
The lack of a cohesive, comprehensive solution increases risk to IT infrastructure and limits the ability for management to make informed budgeting and investment decisions. In one recent survey, over 75% of organizations confirmed that they often pay for support on assets that are no longer in use.
With Anexinet View, users can:

Create, archive, and manage contracts and assets from any device.
Gain full transparency and better workflow by streamlining information gathering.
Manage contracts by serial number, device name, or other customizable fields.
Easily access hardware locations and information needed to initiate a service call.
Schedule timely notifications of impending contract events, like renewals and expirations.
Malcolm Crouch, Network Operations Center Manager at iPipeline said, "Anexinet View allows my team to manage all of our HP devices and contracts in a single easy to use interface. No more scrabbling for SAIDs or Care Pack numbers. Everything we need for HP support is now in a single location."
"Contracts are often scattered across hard drives and collaboration tools and managed by different people across various IT departments which shape your exposure to risk," adds Joe Lanzisera, CEO at Anexinet. "The advantages of Anexinet View help our customers simplify their contract management practices so they can focus on the critical technology that runs their business."
Learn more about Anexinet View and request a personal demonstration.
About Anexinet
Anexinet is a digital, analytics and hybrid IT firm that empowers clients to use technology to transform their business. They build digital experiences that are elegant, simple and engaging. They can deploy hybrid IT solutions that make your business more elastic, accessible, and secure. Analytics and insight are at the core of everything they do driving decision and action. Anexinet leverages platinum level partnerships and industry leading experts to develop affordable business solutions that simplify the complex technology landscape– helping clients make better financial decisions, better strategic decisions, and better business decisions.