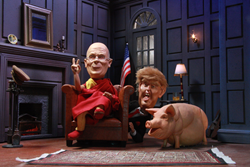 An important show for times that need something less fluffy.
(PRWEB) November 28, 2016
"I'm not sure if it's a blessing or a curse," was the first thought that Adam Shaheen, Cuppa Coffee's Prexy thought when the president elect was actually "crowned". "We brought in a couple of seasoned comedy writers to imagine what the White House would "look" like if DT actually won. Not so much on the revamped decor front, though that will offer up some guffaws, but how the place will comically and tragically change now the votes are in."
The new show "Prez!" is being touted as a half hour 16 - 35's comedy with a biting, satirical edge. It's poised to reimagine roles and America's place in the world and reflect as much what the world is thinking as it is finding a place for justified comedy. Shaheen added, "…it engages both young and old.
"Will it get made?" Shaheen asked somewhat rhetorically. "I suspect when all is said and done, social outrage, network politics and who knows, late night Twitter wars will see this as a challenge now I'm out on the road meeting broadcasters - it's an important show for times that need something less fluffy."
About Cuppa Coffee Studios
Cuppa Coffee Studios was founded in 1992 by illustrator Adam Shaheen. Since that time Cuppa Coffee has gone on to produce over 150 hours of animated television garnering over 180 international awards.