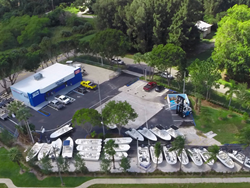 When You Want The Best, come visit our showroom at Ingman Marine - Gary Ingman
(PRWEB) December 06, 2016
Ingman Marine will be opening it's fifth boat dealership located in North Fort Myers. Store manager Jared Brimer and his sales staff will be there to introduce their large inventory of new and used boats. The store is located in the Four Winds Marina at:
Ingman Marine
14531 North Cleveland Ave.
North Ft Myers, FL 33903
Call us at (239) 599-9069
Facebook = http://www.facebook.com/ingmanmarine/
Although this Ft Myers store may be new, it will continue to provide the same quality of service that the other stores have provided for over 30 years. This Ft Myers location will also carry Sea Born, Sun Chaser and Sylvan pontoon boats, as well as Yamaha boat motors, and Continental Trailers. Interested boat buyers will have access to many other boat manufacturers, including: Bennington, Cobia, Grady-White, Hewes, Hurricane, Maverick, Pathfinder, Sea Hunt, Skeeter, Stingray and Sundance.
This new location will also offer excellent services, custom boat requests and additional accessories. The Ft. Myers location also provides a full fishing tackle shop!
Fort Myers is home to one of Florida's greatest boating and fishing communities. With so many areas providing diverse ecosystems, Ft Myers provides amazing fishing opportunities from deep sea fishing, fly fishing and flats fishing. Besides the great waterfront and island destinations. Fort Myers waters harbor large quantities of Snook, Redfish and one of the largest spring time Tarpon migrations in the World.
The address of the Ft. Myers boat dealership is 14531 North Cleveland Avenue North Fort Myers, Florida 33903.
Ingman Marine has four additional stores in Placida/ Grande, Port Charlotte, Bokeelia/Pine Island and also a store located in Sarasota. Feel free to contact them to set up a tour or to arrange visit at any location at Call us at (239) 599-9069.
Ingman Marine
Port Charlotte
1189 Tamiami Trail
Port Charlotte, FL 33953
Phone: (941) 255-1555
Ingman Marine
Sarasota
8311 N. Tamiami Trail
Sarasota, FL 34238
Phone: (941) 360-0088
Ingman Marine
Placida
15001 Gasparilla Rd.
Placida, FL 33946
Phone: (941) 697-1000
Ingman Marine
Pine Island
16501 Stringfellow Rd.
Bokeelia, FL 33922
Phone: (941) 255-0985
Ingman Marine
North Ft Myers
14531 North Cleveland Ave.
North Ft Myers, FL 33903
Phone: (239) 599-9069