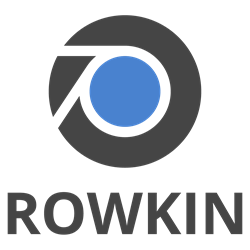 Smaller than a penny, Rowkin earbuds are the smallest true wireless stereo earbuds on the market. ROWKIN™ wanted users to enjoy functionality and portability without sacrificing quality.
SAN MATEO, Calif. (PRWEB) November 28, 2016
ROWKIN™, a FBA Amazon seller and consumer electronics brand providing revolutionary technology that fits with forward thinkers' and their lifestyles, has been selected for an exclusive interview at Amazon's Fulfillment Center in Tracy, CA with the Amazon press team and national media on Cyber Monday morning. ROWKIN™ will announce exclusive deals for up to 65% OFF retail prices. Launched on Amazon storefront in late 2015, ROWKIN™ has quickly become one of the most recognizable brands for wireless Bluetooth headphones, validated by strong sales and great reviews on Amazon.
In recognition of ROWKIN™'s growing sales and fulfillment demand, Amazon invited ROWKIN™, the only seller in California, to meet and greet the media in one of Amazon's most advanced Fulfillment Centers to jump-start the busy holiday shopping season. ROWKIN™ will offer exclusive Amazon deals for the entire gifting season.
The Rowkin Bit Charge stereo earbuds are ROWKIN™'s best seller on Amazon. They come with a pair of true wireless earbuds compatible with iPhones and Android and a built-in dual-function portable charger that provides up to 5 days of battery life and charges smartphones on the go - for only $129.99. For people who are looking for an impressive gift at a lower cost, the Rowkin Mini Plus+ is a great option at only $59.99. It's a mono version and the form factor is the smallest wireless Bluetooth earbud on the market. ROWKIN™ is offering up to 65% OFF offer today exclusively on Amazon.
With the unparalleled product features, ROWKIN™ is well received and validated by strong market demand. Smaller than a penny, Rowkin earbuds are the smallest true wireless stereo earbuds on the market. ROWKIN™ wanted users to enjoy functionality and portability without sacrificing quality.
ROWKIN™ designed the products with high quality sound and functionality in mind. Using two earbuds, users can get a surround sound experience within up to 30 feet of distance from their device. Double clicking the button on the earbud will activate voice command like Siri or Google Now for those who want to go totally wireless. Every Rowkin earbud comes with a portable charging solution to allow users extended talk and listen time.
Since launching its storefront on Amazon, ROWKIN™ has witnessed strong sales growth and is forecasting a big holiday season. As a FBA seller, ROWKIN™ will be taking advantage of Amazon's new and enhanced tools designed to help meet sales demand.
"This is our first year offering Cyber-Monday deals as an Amazon Seller. We forecast gross sales will increase 30% following very strong market demand for truly cordless earbuds," said Anson Liang, Founder of ROWKIN™. "Choosing to sell on Amazon is a no-brainer. Amazon is essentially a one-stop shop that offers a very streamlined selling experience with unparalleled customer service. We model our brand after Amazon's customer-centric service and aim to deliver the best customer experience. Amazon has been a superb company to work with and we're thankful to be a part of this exciting opportunity."
Product Highlights of The Rowkin Mini Plus+, Rowkin Bit, and Rowkin Bit Charge:

Smallest headsets: Smaller than a penny, making Rowkin the smallest stereo Bluetooth earbuds on the market.
Voice Commands: Siri, Google Now, and Cortana are just a touch away via the multifunction button on the cordless earbud, providing a genuine wireless, hands-free experience.
On-the-go Charging: The Rowkin Bit Charge features a unique dual function that enables users to use the Rowkin portable charging case to charge their phones for a single charge or charge their Rowkin earbud up to 15 times.
Designed for Sports: The WaterSafe nano coating technology ensures that it's sweatproof, water resistant, and IPX5 waterproof.
To enjoy special deals, visit http://www.rowkin.com
About ROWKIN™:
ROWKIN™ embodies someone who is always moving forward. They take charge of their own ship and are pioneers in innovation. ROWKIN™ is about finding tech that fits in with your lifestyle and will take you to the next level. Based in San Mateo, ROWKIN™ focuses on the directive of delivering superior sound quality in the smallest Bluetooth cordless headsets. The Rowkin Mini Plus+, Rowkin Bit and Rowkin Bit Charge are the beginning of ROWKIN™'s innovative and ultra-small Bluetooth earbuds in development to suit everyone's unique needs in this tech-driven era. Visit ROWKIN™'s Twitter and Facebook @RowkinInc.
PR Contact:
Mike Miller
mike(at)rowkin.com
1 (628) 333-5488