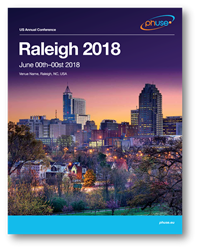 PhUSE is very excited to bring the PhUSE Conference philosophy to America in 2018
Raleigh, NC (PRWEB) December 01, 2016
PhUSE will build on the huge success of the US Computational Science Symposium (CSS) and the popularity of US Single Day Events (SDE) to organize a multiple-day US conference. The first annual US conference will take place in early Summer 2018, in Raleigh, NC. Topics of the pharmaceutical and life sciences industry will cover industry standards, data science, regulations and pharmaceutical programming. Following the principles of more than a decade from the PhUSE annual conferences hosted in Europe, the US conference will have keynotes, posters, presentations, interactive sessions, hands-on workshops and social events.
In 2005, PhUSE organized its first European Annual Conference, which mainly focused on platform independent statistical programming. Over the years PhUSE has evolved into a global community covering all relevant topics related to data science, including industry standards and regulations. Attendees at previous Annual Conferences have enjoyed thought provoking keynotes from professional speakers, industry leaders or health authority representatives, which have kicked off the conference themes in style. Since 2008, PhUSE has successfully organized SDEs in Europe, Asia and the US. These SDEs have supported a truly global contribution, sharing and advancing more than 7,000 members. The US CSS, celebrating its 6th annual event in 2017, has now established itself as the premier collaboration within the clinical trial environment. The collaboration has continued to grow hosting its inaugural event in Europe in June 2016 and engaging other regulatory agencies including the EMA and PMDA.
"PhUSE is very excited to bring the PhUSE Conference philosophy to America in 2018. PhUSE is very well represented across America and there is a great team of committee members and current speakers, which will ensure that the event is a great success with all conference delegates able to gain lots of relevant experience. All this is underpinned by the great organizational structure that has been built over the last ten years", Stephen Bamford (PhUSE Events Director and founder of PhUSE). PhUSE will share more details on sponsor and exhibition opportunities, call for paper dates and the event venue on their website http://www.phuse.eu.
About PhUSE
PhUSE is a non-profit, volunteer-supported community of professionals, passionate about the advancement of clinical data science. It provides the industry with the premier platform for creating and sharing ideas, tools and standards around data and statistical reporting technologies. Since its inception, PhUSE has expanded from a single conference for European Statistical Programmers to a global platform for the discussion of topics encompassing the work of data managers, biostatisticians, statistical programmers and clinical data scientists.