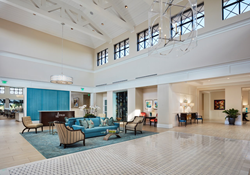 "We are constantly challenging ourselves on how we can improve our member experience." Stephen J. LoGiudice, GM/COO The Club at Ibis
West Palm Beach, Florida (PRWEB) November 30, 2016
The Club at Ibis announced that it has been recognized as a Platinum Club of America, as determined by Club Leaders Forum, the preeminent consulting source in the private club industry.
"The club's Board, management and staff are thrilled with this announcement. Being named a Platinum Clubs is the most respected recognition in private club excellence," said The Club at Ibis's General Manager/COO Stephen J. LoGiudice. "We are constantly challenging ourselves on how we can improve our member experience."
Established in 1997, Platinum Clubs of America recognizes the top 5% of private clubs in the nation, as elected by Club Managers, Presidents, and Owners, using criteria approved by its Advisory Board, which is comprised of 15 Club Managers from some of the most respected private clubs in America. Platinum Club status is awarded to clubs in five categories: Country, Golf, City, Athletic, and Yacht Clubs. The Club at Ibis was included on the list of top private country clubs.
Voters are asked to consider the Platinum Club selection criteria when casting their votes, and points are awarded for rankings. The selection criteria, as approved by the Advisory Board, is:
1. The club's universal recognition.
2. The club's excellence in amenities and facilities.
3. The club's caliber of staff and professional service levels.
4. The club's quality of membership.
5. The club's governance and prudent fiscal management.
6. The club's ability to adapt to changing times.
7. The Member's overall experience.
The Club at Ibis recently completed a $37 million renovation and facility enhancement, including an 80,000 square-foot Clubhouse, four distinct dining venues, and a new Sports Village and aquatics center called The CORE. With over 1800 homes, Ibis is one of the largest private Club communities in Florida.
#####
About The Club at Ibis
Ibis is a secure, gated collection of 33 distinctly different neighborhoods located on the quiet edge of northern West Palm Beach and just minutes from the heart of the city. It is adjacent to the pristine Grassy Waters Nature Preserve, a 12,000-acre, state-protected preserve, with wildlife, birds, and tropical vegetation. The Clubhouse recently completed a major enhancement and expansion to include three new dining venues and banquet accommodations up to 450 members. A new Sports Village opened in 2014 to include fitness facilities, pools, a 4,100-square-foot spa, and a yoga wall. The 16 court Tennis Center holds friendly tournaments and weekly group play. Golf is center stage and offers 54 holes on three Nicklaus family-designed championship golf courses. Top golf instruction is headed by Martin Hall, ranked by Golf Digest as one of the game's Top 50 instructors. For more information, call 561.625.8500 or visit http://www.clubatibis.com.