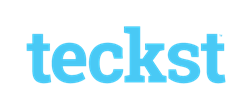 "Texting for customer service has moved from a nascent idea to primetime, competing directly with channels like Twitter, web chat, and email," said Matt Tumbleson, CEO & Founder of Teckst
NEW YORK (PRWEB) November 29, 2016
Teckst, a first-to-market service that enables two-way text messaging for customer service and eliminates millions of hours of hold time, today announced the expansion of its executive and technology leadership team.
Teckst welcomes Ron Garret, one of the first Google employees and lead engineer on the inaugural release of AdWords, and Jodd Readick, co-founder of several innovative telecom firms including Vumber.com, as Technology Advisors. In addition, Teckst has appointed Kris Wiig as the company's VP of Sales to drive its rapidly growing sales organization. Alson Kemp joins Teckst as VP of Engineering, to lead its growing engineering team and expand Teckst's mobile customer service product portfolio.
The leadership team expansion comes on the heels of Teckst's recent $2.5M funding round. Teckst is experiencing explosive growth, as customer service teams embrace texting as the next big channel in customer service communications. Teckst has amassed more than 100 enterprise customers across 19 industry verticals, integrated with every CRM platform and introduced a beta of a new, cutting-edge bionic (human + AI) TeckstBot™.
"Texting for customer service has moved from a nascent idea to primetime, competing directly with channels like Twitter, web chat, and email. We're seeing incredible demand from enterprises from retail to ride sharing. Adding key players to our team will help maintain our significant lead in the space that we created. The unmatched experience of Ron, Jodd, Kris and Alson will be instrumental for taking Teckst to the next level," said Matt Tumbleson, CEO & Founder of Teckst.
Ron Garret, Ph.D: Ron is the founder and CEO of Spark Innovations, a maker of auditable digital security products. As an angel investor and serial entrepreneur, he has been a principal in half a dozen startups, including three which he co-founded. One of those companies was acquired pre-launch by Richard Branson and launched as Virgin Charter. Ron was one of the first employees at Google and served as the lead engineer on AdWords, which accounts for a vast majority of Google's revenues. He began his career at the NASA Jet Propulsion Lab where he worked on ground-breaking research in artificial intelligence and robotics, which ultimately enabled the Mars rover missions.
Jodd Readick: Jodd has spent over 30 years as a serial entrepreneur, product Innovator and management consultant. Designed and managed telecom infrastructure systems and software both as an entrepreneur and Fortune 100 executive, Jodd is a co-founder of four innovative telecom firms, including Vumber.com. He has spent five years as Manager of Marketing and Strategic Planning for the DuPont unit that created the Rapid Interactive Prototyping methodology (now known as Agile Development). Previously, he spent six years as a subject matter expert for Arthur Anderson including M&A transactions for Samsung and AT&T. Jodd created the least cost routing system for NYNEX Mobile; advised Wells Fargo on call center architecture, and created the first expert system for medical collection billing and the first auto-dialer.
Kris Wiig: Kris is an accomplished sales leader with deep expertise in helping b2b companies develop and execute go-to-market strategies and building sales teams for disruptive technologies. Prior to Teckst, Kris served as Director of Enterprise Sales and as Instructor of Sales Strategy and Sales Communications at General Assembly. Previously, Kris served as Chief Revenue Officer for LogCheck, a mobile platform for buildings and facilities management, where she helped drive significant revenue growth. Kris began her sales career at Bloomberg. Kris is an active volunteer basketball coach and works with Positive Coaching Alliance to lead workshops for youth sports organizations for young athletes.
Alson Kemp: Alson comes to Teckst from Vium, where he was the first employee and rose to Head of Platform, leading the development of Vium's next generation pre-clinical research platform and software. Previously, he served as the VP of Engineering at Cerego, where he modernized the infrastructure and guided the expansion of Cerego's personalized learning platform. As a partner at ROI.DNA, a digital marketing agency, Alson built and led the engineering team through many successful engagements, including StitchFix, BrowserMob and Symnatec. Alson's degrees include an MBA from MIT, a MSEE from Oregon State University and a BSEE from Washington University in St. Louis.
"When I was first introduced to Teckst, I was struck by the fact that no one was doing what they were doing and have since had multiple customer service interactions that I wish had been SMS based. Teckst has an incredible, enthusiastic team and I'm thrilled to come on board. As we scale, I look forward to adding AI, Natural Language Processing, translations and a range of other tools to massively improve the future of customer service," said Alson Kemp.
New Features for speed, compliance, and service
Teckst has introduced several new features to bolster its native texting platform, making it even easier for companies to have two-way human to human conversations.

Speed: With the introduction of TeckstBots, Teckst automatically notifies a customer of the wait time, gives a customer an answer to a frequently asked question, or gathers customer information that an agent would normally have to ask, all by easy to use SMS
Compliance: Teckst has added the highest grade encryption and is now BAA and PCI compliance-capable to serve enterprises in highly regulated industries, such as healthcare and financial service.
Service: In expanding its white-glove service to bring texting natively to every customer service platform, Teckst now seamlessly integrates with FreshDesk, Help Scout, Oracle Service Cloud, Salesforce Service Cloud, Salesforce Desk, SAP, SugarCRM and Zendesk, as well as custom-made systems.
Teckst usage is growing more than 25% month over month, and will process more than 4 million texts this month. At its current rate, Teckst has reduced more than 60,000 hours of hold time and has saved enterprises millions of dollars.
Major retailers, mobile carriers, ride-sharing and other innovative customer-centric companies such as JackThreads, KeyMe, Luxe, MM.LaFleur, Managed by Q, Memebox, Plastiq, Shinola, Swoonery and thredUP are turning to Teckst to transform customer engagement with fast, immediate, and conversational texts.
About Teckst
Teckst is a first-to-market service that enables two-way text messaging for customer service teams. Teckst is embraced by mid-market early adopters and enterprises to modernize customer engagement and directly integrates with every CRM system. Teckst was founded by former Seamless/GrubHub Creative Director, Matt Tumbleson and is headquartered in New York City.
Visit teckst.com for more information. Follow Teckst on Twitter, Crunchbase, AngelList, or check out the Teckst Blog.
Contact:
press(at)teckst(dot)com