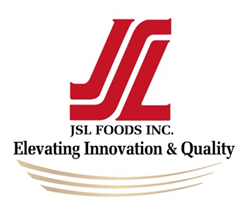 Los Angeles, CA (PRWEB) November 29, 2016
JSL Foods, Inc., the leader of fresh, refrigerated, pre-cooked Asian Noodles, Rice Blends, and Asian Wrappers is pleased to announce the appointment of Ayako Toma as its new Director of Research & Development. Toma has a Bachelor's degree in Food Science and a Bachelor's of Arts degree in Japanese from the University of California, Davis and a Master's of Science degree from California State Polytechnic University, Pomona in Human Nutrition and Food Science. Prior to joining JSL Foods, she previously worked in the fresh cut produce industry doing product innovation from ideation to execution with recipes, ingredient formulations, labeling and regulatory compliance.
In announcing the appointment, Teiji Kawana, President of JSL Foods expressed his pleasure and excitement that Toma will further solidify JSL Foods leading position as market innovators and chart a course of new product innovation that will be instrumental in the future growth of JSL Foods' portfolio of brands.
"I'm very excited about my new opportunity here at JSL Foods and very eager to meet the challenges and responsibilities that my new position presents," said Ayako Toma. "JSL Foods pursuit of continuous improvement is rooted by their pillars of quality and innovation. To be part of that is very inspiring."
Toma will manage a growing research and development department that consist of food technologists, project managers and R&D technicians that will be responsible for developing innovative noodle, pasta, rice, grains and baked good products for JSL Foods.
JSL Foods' Fortune brand Asian noodles are the #1 fresh refrigerated noodle line in the United States. The Fortune brand accounts for 78% of all category sales nationally (Nielsen) and can be found in 4,200 grocery stores nationally. JSL Foods continues to lead the growth of the Asian noodle category by creating innovative, high quality products that offer a nutritious and flavorful profile that supports consumer's desires to cook Asian foods easily in the comfort of their home.
Each noodle is packaged with a natural flavored dry sauce packet and is available in a variety of delicious flavors such as Thai Peanut, Coconut Curry, Teriyaki and Soy Ginger. The line offers consumers a wide range of consumer sought-after health benefits including 100% All Natural, Non-GMO ingredients, Omega-3 Fortified, Cholesterol-Free and MSG Free.
JSL Foods markets its product line to Retail, Foodservice and Industrial segments with their brands: Fortune, Twin Dragon and JSL Foods Professional Products.
About JSL Foods®, Inc.
Founded in 1951, JSL Foods is a third generation family owned company. Their Fortune and Twin Dragon brands are the category leader of fresh, refrigerated, pre-cooked Asian Noodles, Rice Blends and Asian Wrappers (Egg Roll, Won Ton and Gyoza). Fortune's Asian Noodle product line consists of Yakisoba, Udon and gluten free Rice Noodles. These Asian Noodles come with a natural flavored sauce packet and are available in a variety of delicious flavors such as Thai Peanut, Coconut Curry, Teriyaki and Soy Ginger. The line offer consumers a wide range of health options including Omega-3 Fortified, Non-GMO, Cholesterol-Free, 100% Natural and MSG Free. Twin Dragon Asian Wrappers are 100% Natural, Vegan, Kosher and Non-GMO. Located in Los Angeles, California, JSL Foods has built its reputation on delivering a fresh, convenient and restaurant quality Asian meal experience for consumer's home enjoyment. JSL Foods products are sold under the Fortune and Twin Dragon brands and are located in the produce department next to the Tofu section in supermarkets across the United States. JSL Foods is committed to their consumers through continuous innovation towards healthy ingredients, convenience, and value including authentic and fusion culinary recipe solutions. Contact Wayne Nielsen at 323-223-2484 or email him at [email protected]