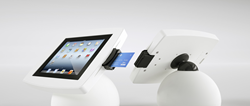 Waterloo, ON (PRWEB) November 30, 2016
Armodilo is pleased to announce upcoming support for the eDynamo card reader from MagTek. This innovative, EMV card reader is compatible with Android, iOS and Windows operating systems via a USB or Bluetooth connection, offering a highly versatile option.
Armodilo has developed a unique anodized aluminum bracket that securely integrates into the Original tablet enclosure and secures the eDynamo card reader without limiting functionality and ensuring that the reader always remains connected. This highly refined integration creates a seamless look and is perfect for retail applications when paired with the award-winning Sphere Point of Sale (POS) Tablet Stand or with any other product in the Original line of tablet enclosures and stands.
Along with upcoming support for the new eDynamo card reader, Armodilo also offers current support for the Magtek iDynamo as well as Dynamag readers, offering a wide range of card reading options on their award-winning tablet kiosks.
About Armodilo Display Solutions
Armodilo Display Solutions is a multiple award-winning tablet display manufacturer located in Ontario, Canada. With a variety of tablet display stands and accessories for trade show, event, retail and corporate markets, Armodilo sets itself apart by creating highly refined products for discerning brands around the world.
For more information about Armodilo, contact:
Iles Guran Founder & President
Armodilo Display Solutions
1-800-975-5946