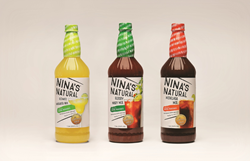 Our customers have been asking for quality, great-tasting products with no artificial flavors, colors or sweeteners, at an affordable price and that is what we have given them." Tom Ellinwood, President and CEO Lasco Foods Inc.
(PRWEB) December 13, 2016
Nina's Natural Bloody Mary Mix, Ultimate Margarita Mix and Michelada Mix earned 14 Medals from some of the nation's most prestigious independent tasting competitions.
The 2016 SIP Awards presented Nina's Natural Ultimate Margarita Mix with the highest honor, the Best in Class Platinum Award and a Gold Medal to Nina's Natural Bloody Mary Mix. Nina's Natural products were presented with two Triple Gold Medals and one Gold Medal at the 2016 Micro Liquor Spirit Awards. Nina's Natural cocktail mixes continued their successful run by earning 6 Gold and 2 Silver at the 2016 Los Angeles International Spirit Competition, The International Review of Spirits, and the 2016 Craft Cocktail Competition.
Nina's Natural Cocktail Mixes are made with no artificial flavors, colors or sweeteners. Nina's Natural Award Winning Cocktail Mixes and Nina's Classic Cocktail Mixes can be found in Total Wine and More (MO), Kroger (TX), Binny's Beverage Depot, Spec's, Friar Tuck, Ruth's Chris, Drury Inn Hotels and Suites, River City Casino, Ameristar Casino, Lumiere Casino and many more fine restaurants and retail outlets across the country. They can also be purchased online at http://www.ninascocktails.com.
Lasco Foods Inc. has been manufacturing and developing quality food and beverage products for the foodservice, restaurant, hospitality, casinos, and retail outlets since 1901. Lasco Foods Inc. manufactures both branded and private label products. Lasco Foods Inc. is well known for a variety of products including Lasco Lemon, Lasco Lime and Lasco Margarita Cocktail Mix Granules.
Website: http://www.lascofoods.com