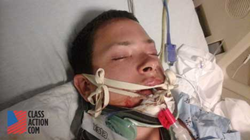 Okaloosa County, Florida (PRWEB) November 28, 2016
Earlier this month, ClassAction.com attorneys Mike Morgan and Harris Yegelwel (along with Beasley Allen attorney Richard Stratton) filed three lawsuits against e-cigarette manufacturers and retailers over alleged e-cigarette explosions and the resulting injuries suffered by their clients (all residents of Florida): James Lauria, William Pickett, and David Studer. (These were three separate alleged incidents.)
Mr. Lauria's case was filed in the First Judicial Circuit Court of Okaloosa County, Florida, on November 4, 2016. Mr. Pickett's was filed in the Ninth Judicial Circuit Court of Orange County, Florida, on November 9. Mr. Studer's was filed in the Fourth Judicial Circuit Court of Duval County, Florida, on November 10.
Defendants include the manufacturers who allegedly made the e-cigarettes and/or their batteries (many of them based in China), and the retailers who allegedly sold the products to the plaintiffs. One of the defendants in Mr. Pickett's case is Samsung, which allegedly manufactured the exploding battery.
Lawsuit Allegations
The complaints allege negligence, design and manufacturing failures, and failure to adequately warn plaintiffs of the products' risks, among other charges.
Though the specifics of each case vary, all concern an alleged e-cigarette (or e-cig battery) explosion that injured the respective plaintiff.
Mr. Lauria's complaint alleges that around 11am on the morning of July 29, 2015, the plaintiff was taking a vape break from his job as a concierge at the Beach House, a Wyndham Resort in Destin, Florida. The complaint claims that without warning the e-cigarette in Mr. Lauria's mouth exploded, blasting a hole between the roof of his mouth and his naval cavity and fracturing his teeth and hand, among other injuries.
The complaint alleges that Mr. Lauria had to be intubated because his esophagus was so swollen that he couldn't breathe on his own. It also claims that he was airlifted across state lines to the University of Alabama at Birmingham's (UAB) trauma and burn unit, where he was allegedly treated for extensive injuries, including but not limited to puncturing the palette in the roof of his mouth leaving a gaping hole all the way through to his nasal cavity, jamming teeth through his gum, fracturing teeth, burning his left hand which was holding the vaporizer, fracturing his hand and his C-5 vertebrae, burning the left side of his face and chest area, and scratching his left eye from flying debris from the explosion.
In the case of Mr. Pickett, the complaint alleges that on June 30, 2016, an e-cigarette exploded in his pocket as he drove to work, "engulfing [his] leg in flames." Mr. Pickett alleges he suffered second and third degree burns.
Mr. Studer alleges that on May 29, 2016, he was injured when an e-cigarette battery exploded in his shorts pocket, catching them on fire. Mr. Studer's complaint alleges he suffered second and third degree burns on his thigh.
Each complaint includes photos of the alleged injuries and vape products as exhibits.
Plaintiffs seek damages for pain and suffering, mental anguish, hospital/medical bills, and lost wages (past and future).
About ClassAction.com
ClassAction.com is part of the Complex Litigation branch of nationwide plaintiff's law firm Morgan & Morgan. Mike Morgan is the managing partner of Morgan & Morgan's Product Safety Group, which represents individuals who have been injured due to poorly designed and defective products. Harris Yegelwel works in the Product Safety Group and handles the group's e-cigarette litigation.
Case Information
FIRST JUDICIAL CIRCUIT COURT IN AND FOR OKALOOSA COUNTY, FLORIDA
JAMES LAURIA, Plaintiff vs. THE VAPOR MASTER LLC, a Florida Limited Liability Company; LUMEN TACTICAL LLC d/b/a LONGHORN TACTICAL LLC d/b/a NITECORE STORE, Texas Limited Liability Companies, and UVAPER, LLC, a Washington Limited Liability Company; Defendants
CASE NUMBER: 2016 CA 003963 F
E-Filed: 11/04/2016
CIRCUIT COURT OF THE NINTH JUDICIAL CIRCUIT IN AND FOR ORANGE COUNTY, FLORIDA
WILLIAM PICKETT, Plaintiff vs. IBTS LLC d/b/a I SMOKE OUTLET, a Florida Limited Liability Corporation; SAMSUNG SDI AMERICA, INC., a California Corporation; SAMSUNG ELECTRONICS AMERICA, INC., a New Jersey Corporation; SAMSUNG ELECTRONICS CO., LTD, a Florida Limited Liability Company; and DOVPO USA, a Florida Corporation; Defendants
CASE NUMBER: 2016 CA 009796 O
E-Filed: 11/09/2016
THE FOURTH JUDICIAL CIRCUIT COURT IN AND FOR DUVAL COUNTY, FLORIDA
DAVID A. STUDER, Plaintiff vs. GLEN NEWMAN individually and DOING BUSINESS IN FLORIDA AS BLACKHAT VAPOR and BLACKHAT ELECTRONIC CIGARETTES AND FICTITIOUS DEFENDANTS "A" THROUGH "G," those persons, corporations, other legal entities, and/or successor-in-interest of any of those entities described above whose wrongful conduct caused or contributed to cause the harms, injuries and damages to the Plaintiff. The true identity and facts giving rise to liability of the Fictitious Defendants are unknown to Plaintiff at this time but will be substituted by amendment when ascertained, Defendants.
CASE NUMBER: 16 2016 CA 007136 XXXX MA
E-Filed: 11/10/2016