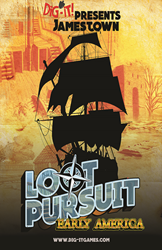 Gaming, if done correctly, can be a great asset for education and learning - Alice L. Reilly, Ed.D. President, National Social Studies Supervisors Association
Bethesda, Maryland (PRWEB) December 01, 2016
DIG-IT! Games, a mission based, independent developer of award-winning interactive learning tools, has released Loot Pursuit™ Early America. This education game allows educators to deliver a new experience to students learning about the history of Jamestown, USA. Available online, this is an addition to the popular Loot Pursuit™ series designed by former middle school teacher and DIG-IT! Games CEO, Suzi Wilczynski to take kids on social studies adventures that are both educational and motivational.
Loot Pursuit™ Early America challenges students to think critically about life in the settlement of Jamestown by placing them in the middle of the struggle of finding artifacts that are threatened by looters. Students engage with a narrated text and then complete corresponding math word problems to uncover the artifacts. Students track their progress through a digital journal that documents all artifacts and gives students the opportunity to review content before completing embedded quizzes at the end of each level. This game offers leveled math problems for 4th, 5th and 6th graders while engaging with a rich academic text accompanied by a glossary and optional voice over for text elements. The game was designed to correlate to Common Core, Virginia SOL and National Council for Social Studies Curriculum Standards.
Students who play Loot Pursuit™ Early America can now explore the history of the first English colony in the United States of America with two language options. "We are pleased to announce a Spanish language option with this game," Says Wilczynski. "Educators now have multiple options to delivery American History not only in Social Studies classes but also Spanish language and English language learning (ELL) programs. We expect that some students may want to play this at home with their Spanish speaking parents expanding cultural awareness across generations."
DIG-IT! Games is pleased to announce the official release of this new social studies product on the history of the Jamestown settlement to coincide with the National Social Studies Supervisors Association meeting in Washington D.C. We are committed to being a leader in game based learning in the social studies education marketing. Our support for educators includes numerous outreach campaigns to the underserved and other partnerships with educators. Alice L. Reilly, Ed.D., President, National Social Studies Supervisors Association, has said, "gaming, if done correctly, can be a great asset for education and learning." We agree with Dr. Reilly and look forward to designing new games that can innovate social studies education in the classroom. Dig-It! Games is a proud partner of the National Social Studies Supervisors Association.
This game is supported on most recent browsers and is therefore suitable for delivery on most education hardware. It is available immediately at Dig-It! Games.com website store as a subscription license. Bulk purchase discounts are available. Purchase of the game includes free lesson plans and additional games for the classroom. Learn more about how this game can meet your historical and math goals simultaneously by joining our teacher network where you can review the game for free.
About DIG-IT! Games: Dig-It! Games is an award-winning, mission-based game development studio dedicated to creating games that encourage kids to explore the world around them. Founded by professional archaeologist and former middle-school teacher, Suzi Wilczynski, Dig-It! Games develops educational tools that promote critical thinking, independent learning and cultural understanding. All games incorporate age appropriate content in math, science, social studies and language arts into fun interactive and engaging learning experiences.