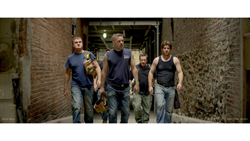 (PRWEB) November 28, 2016
Colin Broderick's first feature film "Emerald City" tells the tale of a hard living crew of aging Irish construction workers in NYC and of one character in particular who may have found a way out.
Pat Mack, played by the comedic theatrical actor, John Keating, lives in the Irish enclave of Woodlawn, Yonkers, with his wife and two kids. His Manhattan based construction business is teetering on the brink, but his personal life might be in worse shape that that. Meanwhile on the job he is trying to rally a crew of Irish misfits who might be well be unemployable were it not for his misguided sense of cultural commitment to each of them.
The movie features retired Irish professional boxer, John "The Derry Destroyer" Duddy, in his first starring role. John plays retired boxer Podge Quinn. Podge lives in Sunnyside, Queens, and works as a carpenter on Pat Mack's crew of misfits. Podge has fallen in love with a local Irish barmaid, Mary, who has had her fill of sweet talking Irishmen. Podge is having trouble proving to her that he is not like the others.
Outside of Keating, Duddy, and the roll of Lucy, played by the American actress, Eden Brolin, Broderick cast mostly inexperienced actors to keep with the feeling of authenticity he felt the story deserved. Many of the main cast had never set foot on a stage or in front of a camera before filming Emerald City. Many of them are working class Irish carpenters he'd gotten to know on job sites over the years.
Broderick, originally from County Tyrone, Northern Ireland, who wrote, directed, produced, and stars in Emerald City, delivers a glimpse into this Irish immigrant subculture with a sense of ease and authenticity that betrays his own working class background. He has worked construction in New York City for thirty years. In the past eight years, since he sobered, he wrote a memoir "Orangutan" detailing the recklessness of his own hard partying lifestyle. The book published nationally by Random House to wild acclaim, continues to breach the best seller lists in the U.S. as one of the top recovery memoirs of its genre. Random House also published his second memoir "That's That" which details his life growing up in Northern Ireland during the years of The Troubles. His new book, the anthology, "The Writing Irish of New York" will be published in the spring by Fordham University Press.
Emerald City is co-produced by Brendan Coyle (Mr Bates on Downton Abbey), Don Cisternino of MagnifiCo Inc. and Sid Levin of TLA Talent and Literary Agency. Brendan Coyle reached out to Broderick after seeing a short movie "Smile" he'd made on You Tube a few years ago. The two bonded further after realizing that they shared the same background: Coyle's father grew up in Tyrone just a few miles from Broderick's home place. Don Cisternino met Colin Broderick through their mutual friend John Duddy, who is currently an actor represented by Hollywood Agent Sid Levin of TLA. MagnifiCo and TLA joined forces earlier this year to create a boutique talent and literary agency with a global reach.
Emerald City, made for just a hundred thousand dollars, is Broderick's homage to the millions working class Irish immigrants who have toiled in relative obscurity for the past three centuries, plying their skills to build the most remarkable skylines in the world. Emerald City serves as both a testament to that lineage but more importantly as a way of marking what Broderick sees as a cultural shift away from Irish manual labor and the end of the irish immigrant construction identity as we have come it know it. Pat Mack's crew of lovable misfits may very well be the last of the Mohicans.
Emerald City has been Shortlisted for Best Feature in The London Irish Film Festival 2016 and will have its global premiere as it closes out the festival Sunday Nov 27 at The Curzon Theatre, Soho.
https://m.youtube.com/watch?v=OkIspu5aKPA