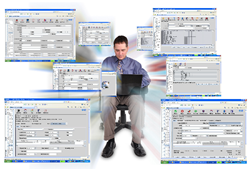 This report provides payer CIOs with the vital information to assist organizations in prioritizing efforts and optimizing strategic IT initiatives,"
Fort Washington, Pennsylvania (PRWEB) November 29, 2016
RAM Technologies, Inc., the perennial leader in the development of enterprise claims processing software for health plans and benefit administrators, is pleased to announce a new report made available as part of the "Sharing Knowledge to Improve Healthcare Administration" (SKIHA) program. This month, members of the SKIHA program (free registration) are granted complimentary access to the Gartner report, Use Administrative Cost Optimization to Drive Payer Administrative Modernization, authored by Constance Sjoquist (14 October 2016).
"This report provides payer CIOs with the vital information to assist organizations in prioritizing efforts and optimizing strategic IT initiatives," states Robert A. Tulio, President of RAM Technologies. "The entire nation is faced with a crisis of rising healthcare costs. We need to come together to improve healthcare delivery and payment. The free flow of information enabled by the SKIHA program is the first step to shared success."
Each and every month the SKIHA program makes available special content that provides unique insight and in-depth industry knowledge to those in the position to enact real change. This exchange of ideas is integral to the long term goal of controlling healthcare costs in the United States.
Sign up for the SKIHA program today (free registration) to read Use Administrative Cost Optimization to Drive Payer Administrative Modernization. CLICK HERE
About the Program
Sharing Knowledge to Improve Healthcare Administration is an open platform that shares industry analysis and research to help the payer community prepare for the future. The exchange of ideas promoted by the SKIHA program is designed to increase productivity and reduce costs across the industry.
About RAM Technologies, Inc.
RAM Technologies is the leading provider of enterprise claims management software and claims adjudication software for health plans. For over 35 years RAM Technologies has led the way in the creation of Medicaid software solutions, Medicare software solutions and software for dual eligible processing (the Medicare-Medicaid Financial Alignment Initiative). RAM Technologies has been recognized on Inc. Magazine's List of Fastest Growing Private Companies and the Philadelphia Business Journal's List of Top Software Developers for their advancements in the creation of comprehensive claims management software for Medicare and Medicaid administration. To learn more about RAM Technologies' healthcare claims processing and managed care software solutions call (877) 654-8810 or visit ramtechinc.com.