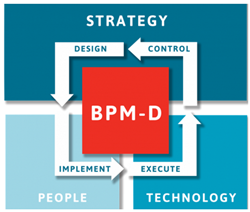 This eLearning option features the same amount of training, the same experts and the same learning objectives as in-class seminars.
(PRWEB) December 07, 2016
This eLearning course is a unique introduction into process management as a value-driven management-discipline for ongoing digital transformations and strategy execution. The session addresses topics like establishing a process-led management discipline and appropriate governance, focused and fast process improvement of high impact processes, process standardization, value-driven use of digital technologies, as well as targeted innovation and agility for significantly increased customer experience. BPM-D executives introduce key enablers and explain how to establish and apply such a next generation management discipline.
eLearning, also referred to as on-demand or on-line learning, is more popular today than ever before. BPM-D strives to take every measure when it comes to addressing the requirements of their clients. Therefore, they have taken the most popular face-to-face training sessions and are offering them as an eLearning option.
This eLearning option features the same amount of training, the same experts and the same learning objectives as in-class seminars; however, in a convenient on-demand on-line format. The training course is broken into modules and then further broken into 3-5 minute segments for a micro-training delivery where participants can acquire the much needed information but at their own pace and in their own preferred environment. This is a next generation digital learning experience.
This eLearning course will take you on a journey of value-driven digital transformation and strategy execution delivered through a process-led next generation management discipline.
Visit BPM-D University for more information and registration.
About BPM-D
BPM-D® (http://www.bpm-d.com) partners with its clients to achieve productivity and performance through cross-functional business and information technology initiatives. It is the expert company to set up and apply a business process management discipline that provides significant value through systematic strategy execution in a digital world. The business was established based on the years of experience of its co-founders in delivering components of this vision: process management strategy; process and data governance; rapid process improvement; standardization, client-journey mapping, value-driven modeling & repositories; and change enablement to organizations, both large and small.
All BPM-D offerings are based on the patent pending BPM-D Framework that enables fast results at a low risk. The offerings support a focused and dynamic approach to process management and improvement. This is pragmatic and outcome-based, linking to business strategy and working to translate this into execution, faster and more reliably.
BPM-D also supports organizations to select and manage other consulting partners, especially for larger process-led transformations. We help define and balance the roles of the internal BPM-Discipline and the externally acquired services to ensure that programs deliver immediate improvement and a sustainable ability to realize value form change.
For small and medium sized software and consulting companies we leverage our years of industry experience to assist in defining and executing growth and internationalization plans. We provide support in all areas of the BPM-Discipline critical to the success of our clients.