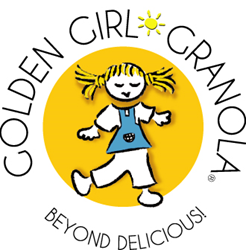 Shirley, MA (PRWEB) November 30, 2016
Golden Girl Granola, one of America's fastest growing and best tasting granola brands, is excited to announce today that Mary Tee of Windham, ME, is the Grand Prize Winner of their 2nd annual blogger recipe challenge. Chris Coyle from New Hartford, NY, took second place and Darlene Buerger from Peoria, AZ, was the third-place winner.
"Unbelievable, I'm still in shock! I really can't believe I won. With so many talented bloggers participating, I really feel honored to be named the Grand Prize Winner of the Golden Girl Granola Blogger Recipe Challenge," stated Mary Tee from Sense of Taste.
Bloggers from across the nation were challenged to show off their creativity by submitting original recipes using one flavor of Golden Girl Granola. After weeks of judging, Mary Tee's Forest Maple Granola Shortbread & Homemade Banana Pudding was the winning recipe. The recipe was created using Golden Girl Granola's Forest Maple granola. The recipe impressed the judges based upon its creativity, originality, healthiness and use of ingredients. You can find Mary's recipe at her blog at http://www.sensetaste.com.
"It was so inspiring to see the creativity and originality from these bloggers across the country. We were truly impressed by the quality of each recipe that was submitted," said Deborah O'Kelly, founder of Golden Girl Granola. "Each blogger showed how easy it is to invent granola dishes that are creative, simple and delicious when creating a homemade recipe with our granola."
2nd Annual Golden Girl Granola Blogger Recipe Challenge Winning Recipe: Forest Maple Granola Shortbread & Homemade Banana Pudding
Ingredients: Cookies

2 sticks butter, room temperature
½ c. sugar
1 egg
¼ c. maple syrup
½ c. granola "flour"*
2½ c. AP flour
1 tsp. baking powder
1 tsp. vanilla
¾ c. Golden Girl Forest Maple granola
Pinch of salt
*To make granola flour, grind desired amount of granola in a coffee grinder/food processor until it is the texture of almond or corn meal.
Ingredients: Pudding

4 c. whole milk
½ c. sugar
Pinch of salt
2 extra ripe bananas cut into ½-inch pieces
3 heaping tbsp. cornstarch
4 egg yolks (reserve whites for meringue)
2 tbsp. butter
2 tsp. vanilla extract
4-6 ripe bananas, thinly sliced
Ingredients: Meringue

4 egg whites
½ tsp. cream of tartar
1 tsp. vanilla
½ c. ultra-fine sugar
Directions – Cookies:
1. Using a hand or stand mixer, beat 2 sticks butter and ½ c. sugar until creamed together.
2. Add 1 egg, ¼ c. maple syrup and 1 tsp. vanilla. Mix until well combined.
3. In a separate bowl, combine granola flour, AP flour, baking powder and pinch of salt.
4. Add half of the dry ingredients to the wet ingredients and mix well on medium speed. Add remaining dry ingredients, mixing until dough just starts to form.
5. Add granola and mix until just incorporated.
6. With floured hands, remove dough from bowl and shape into fat log. Wrap tightly and completely in plastic and, using your hands, roll against the counter to form a long log, about 2 inches in diameter.

If dough is too soft to shape, place in refrigerator for about 30 minutes.
7. Once long log is formed, place wrapped dough in refrigerator for at least 2 hours.
8. When ready to bake cookies, heat oven to 400°F.
9. Slice cookie "log" into ¼-inch slices. Place on prepared cookie sheet and bake 6-8 minutes or until edges are brown and center is set. Place on cooling rack to cool.
Directions - Banana Pudding:
1. Mix ½ c. sugar, cornstarch and pinch of salt in a large saucepan. Gradually add in milk, stirring constantly until well combined.
2. Place milk mixture on burner and cook over medium heat until dissolved and liquid is smooth.
3. Add over-ripened banana and continue to cook for 3-4 minutes, stirring constantly, until mixture starts to boil and thicken.
4. Meanwhile, lightly beat egg yolks in a spouted bowl or large measuring cup.
5. Once mixture has thickened, remove banana pieces with slotted spoon and discard.
6. Slowly add 2 cups of the hot banana-milk mixture to egg yolks, stirring constantly to make sure the eggs don't cook.
7. Once eggs and milk are combined, return mixture to saucepan and stir constantly for 1-2 minutes.
8. Remove from heat and stir in 2 tsp. vanilla and 2 tbsp. butter.
Directions - Meringue:
1. In a large bowl add 4 room-temperature egg whites, ½ tsp. cream of tartar and 1 tsp. vanilla.
2. Using an electric mixer beat on medium speed until soft peaks form.
3. While beating, add ultra-fine sugar 1 tbsp. at a time until stiff peaks form.
Directions – Assembly:
1. Line the bottom (and sides, if you prefer) of a round, 2-quart casserole dish with shortbread cookies.
2. Over cookies, place thinly-sliced banana pieces.
3. Pour hot pudding mixture over bananas and spread evenly with spatula.
4. Top pudding with meringue, covering pudding layer completely.
5. Bake at 375°F for 8-10 minutes or until meringue is golden brown.
6. Serve warm or cold.
Golden Girl Granola comes in seven all-natural delicious head-over-heels flavors that include Bluesberry, Chocolate Decadence, Creative Cranberry, Forest Maple, Home Sweet Honey, Original and Truly Tropical. And the best part, Golden Girl Granolas are made with whole-grains and are dairy free, cholesterol free, casein free, trans-fat free, wheat free and have no preservatives, artificial color or flavors.
About Us:
Golden Girl Granola™ is a family owned and operated business located in Shirley, Massachusetts and produces a branded line of gourmet granola products superior in taste and made from the highest-quality ingredients. Golden Girl Granola is a "Healthy Snack" alternative for health conscious consumers who appreciate good taste. Flavors include Forest Maple, Creative Cranberry, Bluesberry, Chocolate Decadence, Original, Home Sweet Honey, and Truly Tropical. Golden Girl Granola offers the complete line nationwide for Chain Supermarkets, Independent Supermarkets, Gourmet Food Stores, Club Stores and Convenience Stores. For more information contact Deborah O'Kelly at 978-425-5058 or e-mail her at deborah@goldengirlgranola.com.