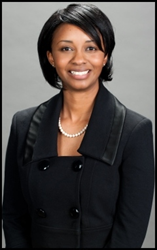 Durham, NC (PRWEB) November 30, 2016
Durham Social Security Disability Attorney Crystal Rouse, with the Law Offices of James Scott Farrin, received another honor (her third this year) when she was appointed as an officer to the North Carolina Advocates for Justice (NCAJ) Education Committee and asked to be the editor of the October 2016 issue of the organization's "Trial Briefs" magazine.
"Crystal is a leader who has served in many capacities and received well-deserved recognition for her advocacy skills and top-notch work. I am proud to work beside her and to have access to her wise counsel," said Farrin Attorney and Shareholder Rick Fleming, who heads the firm's Social Security Disability department.
In her role on the NCAJ's Education Committee, Rouse will play a key part of the team commissioned to develop and oversee the NCAJ's continuing legal education (CLE) programs. In addition to serving on the primary education committee, Rouse is helping to update and revise content on the education section of the NCAJ's website and helping the NCAJ with a variety of other special projects aimed at educating its members and the legal community at large.
"Advocating for others whose voices may not be heard is my passion. It is what I have always wanted to do. As a Social Security Disability lawyer representing plaintiffs, it's what I am privileged to do every day. The NCAJ allows me to help my peers as we seek more and better ways to advocate together," Rouse said.
As editor of NCAJ's "Trial Briefs" October issue Rouse helped drive content by contacting potential authors, move the production process forward, and edited content for accuracy. This issue spotlighted Social Security Disability law, Rouse's practice area.
Rouse was appointed to the NCAJ's membership committee in 2014 and the board of governors from 2014–2016. She also chairs the organization's Disability Advocacy Section (DAS) and has been a featured speaker at NCAJ CLE courses.
Twice she was named a 'Rising Star' by "North Carolina Super Lawyers Magazine*" in 2015 and 2016 and is a member of the National Organization of Social Security Claimants Representatives.
Rouse has been an attorney since 2008 and a contributing member of the NCAJ since 2010.
*To be eligible for inclusion in 'Rising Stars,' a candidate must be either 40 years old or younger or in practice for 10 years or less. 'Rising Stars' undergo a rigorous, multiphase process which combines peer nominations with third-party research. Each candidate is evaluated on 12 indicators of peer recognition and professional achievement. Selections are made annually on a state-by-state-basis. While up to 5% of the lawyers in any state are named 'Super Lawyers,' by "Super Lawyers Magazine," no more than 2.5% are named to the 'Rising Stars' list. For more information regarding the standards for inclusion, visit superlawyers.com.
ABOUT THE LAW OFFICES OF JAMES SCOTT FARRIN
The Law Offices of James Scott Farrin is headquartered in the American Tobacco Historic District, adjacent to the Durham Bulls Athletic Park, in Durham, North Carolina, with 13 additional offices statewide in Charlotte, Fayetteville, Greensboro, Greenville, Goldsboro, Henderson, New Bern, Raleigh, Roanoke Rapids, Rocky Mount, Sanford, Wilson, and Winston-Salem. The firm's 37 attorneys focus on the following practice areas: Personal Injury, Workers' Compensation, Social Security Disability, Eminent Domain, Intellectual Property, Civil Rights, Mass Torts, and Products Liability. Seven of the attorneys are North Carolina Board Certified Specialists in Workers' Compensation Law and one is a North Carolina Board Certified Specialist in Social Security Disability Law. The Law Offices of James Scott Farrin is involved in the community, including sponsorship of local philanthropic organizations.
Contact Information:
David Chamberlin
280 S. Mangum Street, Suite 400
Durham, NC 27701
866-900-7078
http://www.farrin.com