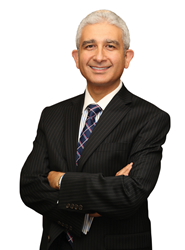 San Antonio Eye Specialists is very proud to offer this next breakthrough in laser vision correction technology to our patients
San Antonio, Texas (PRWEB) November 29, 2016
San Antonio Eye Specialists, led by medical director Nader Iskander, MD, is happy to announce that it is one of the first practices in San Antonio to offer the Tecnis Symfony® and Symfony® Toric Lens Implants, developed by Abbott Pharmaceuticals, to area residents. The Tecnis Symfony® Lens is designed to reduce or eliminate the need for reading glasses or bifocals after undergoing cataract surgery, something more baby boomers are seeking with today's advanced technology.
The Tecnis Symfony® lens is comprised of a multifocal lens design, which has multiple power rings that help patients see at various distances. In the past, the issue with multifocal lenses has been a glare and halo effect at night, and patients would have to hold objects at an exact distance in order to see them clearly. The Tecnis Symfony® design allows for an extended range of vision, providing a new option for patients that may result in better vision across a broader range of distances. This new lens significantly reduces any glare and halo effect, producing approximately the same amount of night vision issues as monofocal lenses, which is close to zero.
"The new Symfony® lens is fantastic. It has given me the option to provide my patients with technology that was only a dream a few years ago. With the Symfony® Lens, most patients can do most things, most of the time, including reading and driving a car, without the need for reading glasses or bifocals," says Dr. Iskander.
Abbott Pharmaceuticals also developed the Symfony® Toric lens, which can help patients with astigmatism reduce or eliminate their need for reading glasses or bifocals after cataract surgery.
San Antonio Eye Specialists has also recently acquired Contoura Laser Vision Correction technology, the next generation in LASIK which uses the latest WaveLight® topographic-guided laser system developed by Alcon Pharmaceuticals. This is one of the most technologically advanced excimer laser systems available in the United States. The US Food and Drug Administration (FDA) recently approved Contoura for use in the United States.
In FDA studies, this laser technology produced the best results compared to previous FDA studies for myopia (nearsightedness) and myopic astigmatism (nearsightedness with astigmatism). U.S.-based clinical trials conducted by Alcon showed that 12 months after surgery 92.6% of eyes that received topography-guided LASIK treatment achieved 20/20 vision or better, 64.8% experienced 20/16 vision or better, and 34.4% could see 20/12.5 or better. The outcomes also showed reductions in some of the visual symptoms associated with LASIK, including glare, light sensitivity, difficulty driving at night, and difficulty while reading.
"Until Contoura was recently approved by the FDA, there had not been a major technological advancement for LASIK vision correction in the past decade. San Antonio Eye Specialists is very proud to offer this next breakthrough in laser vision correction technology to our patients," Dr. Iskander said. "With Contoura, patients have a better chance of not only seeing 20/20, but taking their vision beyond 20/20, and even improving their night vision."
To learn more about Symfony Lens Implants or Contoura Laser Vision Correction, contact San Antonio Eye Specialists at 210-822-9800 or visit http://www.mySAeyes.com.
About San Antonio Eye Specialists
San Antonio Eye Specialists is one of San Antonio's premier cataract and LASIK vision correction practices. Led by Dr. Nader Iskander, San Antonio Eye Specialists is widely regarded as one of the premier ophthalmology practices in Texas. Known as the leader in San Antonio for LASIK vision correction and cataract surgery, the doctors of San Antonio Eye Specialists provide all-encompassing vision care that includes general eye care, cataract removal and care, premium lenses, glaucoma treatment, treatment for dry eye, pterygium, allergies, BOTOX®, and other comprehensive eye care treatments. Patients can schedule an appointment by calling 210-822-9800 or visiting http://www.mySAeyes.com.